Just Think
August 3, 2009
Imagine sitting on a chair,
And him on your lap.
Imagine you crying,
As you sit in his trap.
Imagine your feelings
Hitting you back in the chest.
Imagine him turning up at your side,
For a calm pleasant rest.
Imagine you with him
His arms round your waist.
Just sitting side by side quietly,
Making no haste.
Imagine you holding him,
Tightly round his neck.
Imagine his mouth
Coming towards yours with a peck.
Imagine how pleasant these child thoughts would be.
Imagine how warming;
Just you, him, and me.
Imagine the ocean,
The waves and the sand.
Imagine you walking together,
Side by side, hand in hand.
Imagine the sand under your skin.
Imagine his face above yours
With that permanent grin.
Imagine your hands,
Grasping his tall firm back.
Imagine if your dreams
Led you right up this track.
Imagine if everything your pencil wrote
Could turn into truth.
Just thinking about him
Will let your body loose.
Imagine such a long time ago,
All the innocence you had?
How did you loose it? Where did it go?
What made you go crazy? What made you be bad?
Do you miss it? Was it nice to not know?
The truth about nature? The truth can be sad.
Imagine you high in your own little world.
Imagine him over you, taking care of his girl.
Imagine his heart dropping down by your side.
Imagine him asking you out for a ride.


Imagine him loving the way that you are.
Imagine taking a hot summer shower with him.
Imagine water flowing over your heads, and him holding you in.
Imagine him wanting absolutely nothing from you.
Imagine him only wanting your love,
And you feeling that way, too.
Imagine you both lying on top of a bed.
Imagine you both just thinking together;
Head to head.

Remember how easy it all used to seem?
These thoughts seem so distant, far off,
like a dream.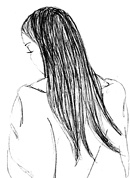 © Miranda B., Neosho, NY