Of Mice and Men
August 5, 2009
We all have dreams,
visions,
a hope for happiness.
What happens to our dreams?
How do we fulfill them?
happiness doesn't last forever
our dreams,
they remain dreams,
fantasies,
our visions of the future,
are forever in the future
until we try to go after them.
But we don't pursue our dreams
alone, though
we have someone
someone by our side
someone near us to remind us that
we have someone.


George
I dream.
There isn't anyone who doesn't.
I try to dream
and aim for the near future
because there is only so much
I can expect out of life.
But when I dream,
the future seems brighter.
In my visions,
I see a farm.
It is our little place.
We have a house
and a fence.
Most of all,
there is nobody else there
to tell us what to do.
We have a place
and it is our place.
This is my hope.
That when we get this place,
I will finally be happy.
We will be happy.
Lennie will be safe,
I will no longer be worried
and in fear of the
world.
I really do care about Lennie.
My love for him has grown.
The time we spend together
helps me to realize
how clueless and innocent
he truly is.
I think I need him
as much as
he needs me.
He is that someone,
always by my side
reminding me that we
have each other.
But if I ever lost Lennie,
I know I would lose our dream, too.
It would no longer be
our dream.
A part of the happiness
I was waiting for
would never come.
The joy of seeing Lennie
enjoying his time with the rabbits
doing whatever he wanted to do
and nobody stopping him.
That is why I ham happy
I have him.
He is someone beside me
but even more,
he is my best friend.

Lennie
I dream.
George and I dream of
our place.
We're going to have rabbits
and I get to tend to them
We'll have a little house
and a little farm.
This is the dream
and George will make it
come true,
I know he will!
George is my friend
and he will never leave me.
Because guys like us
don't have family.
But we haven't lost
hope.
We are different
We have each other.
If I didn't have
George,
I don't know what
I would do.
He is always
protecting me and
helping me to understand.
I really hope that
George loves me—
because I love him.
He is my best friend
and without him,
our dream would fall
apart.
I wouldn't get any rabbits
and I wouldn't have
someone by me
helping me along the way.


Of Mice and Men
We all have dreams,
visions,
a hope for happiness.
but without someone to
share them with
the dream vanishes,
We all need someone
and if we lose them,
We lose our dream.
What makes our
dreams come true?
LOVE
FRIENDSHIP
UNITY
The heat of our dream
is love
The soul of our dream
is friendship
and the result
is unity.
Forever, there is
someone by our side
and our dreams
do come
true.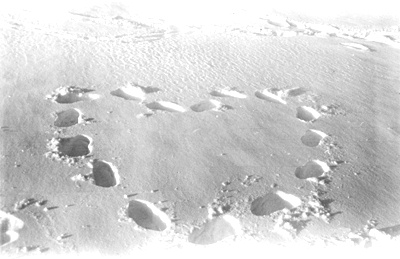 © Kim B., Marblehead, MA