Oneiric
MAG
June 14, 2009
Copper is the mask
passed around by too
many wine-filled masqueraders.

Because his voice shines
above them all,
spring air is tossed
into the salad dish,
the wine bowl,
the midnight glow of the candlestick.

He is passed around
by too many women,
his suit no longer pure white but
melting with lustful handprints
as if water could never turn to ice.

And his face is
shifting as you follow,
lightly stepping over the dainty
patches of clover
until he stops,
turns to you and
drenches you with worlds not seen.

And 44 percent
of your heart tells you that
this is a lie. While the
other 56 percent is
captured in the beauty of the cherry tree.

His hidden face no
longer interests you – just
the petal of a cherry tree, cupped
between your long fingers.

And now he is
tossed around by the
husbands of the women
who lustfully marked his clothes.
And you smile
because this cherry tree
has offered you so much more than just
a man in a mask,
it offers you
true beauty: nature.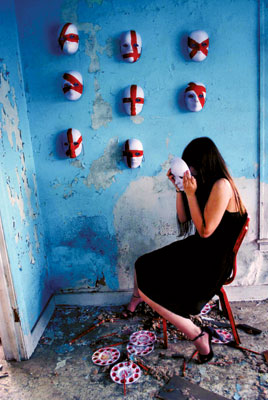 © Narongsukchai T., Sachse, TX