Next Time
April 10, 2019
If you get there before I do
smell the sweet flowers
that were once withered in the soul.
Tell me how they have rejuvenated.

Send me notes and secrets
only we speak of.
Guide me in the path of death
to a calm unconsciousness.

Show me how peaceful it is without
the people we call lost.
Where only our loves and beliefs
will flourish, not our despair.
Tell me how all your favorite things
pop like neon pink in a black light.
Or the rush of fun and joy that hits
like a gust of wind.

I will look for your presence in the
silence. Hopefully finding you in the field of flowers
that could only be dreamt of.
From dawn to dusk I will search for your ghost.

Hopefully in the white light we will meet, if not then
maybe in the next heartbeat of a newborn
or in a school yard. But us old souls may be
on our last stretch as our wisdom cannot grow more.

We stick together no matter how far pulled
and stretched; knowing each other for centuries
and always meeting up again. We can't be parted
by even the sword of death.

Maybe born angels, white lighted or dark ridden.
Souls of darkness with angelic shells.
We are the masters of disguise, partners in crime.
We will run the next place together.

I know where we will go
But as long as our hearts stay as they are
We will always be riddled with the dark and light.
Our yin and yang hearts.

-Calista, your sister (actually best friend)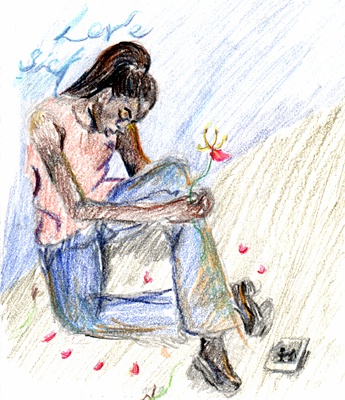 © Sherell B., Philadelphia, PA