My Second Chance
April 17, 2009
I just got off the school bus, but saying hello to my mom and brother.
I waved to them, but ran upstairs and locked my door.
I saw my dark room. The purple walls, the pink bedspread. I turned on my dresser's light.
I dropped my school-bag on the floor, and landing on my knees.
I grabbed my portable, mirror, and spreading the powder around in a line.
I sniff it up slowly. Ah. Feeling good.
I looked in the mirror... I was shocked.
I was seeing someone... someone I didn't know.
I saw someone scared and insecure. Someone unsure of herself, someone I didn't want to know.
I thought for one moment. What the hell am I doing?
I remember one night... I was out with my boyfriend, Josh and we went to a party.
I was tired that night but went anyway.
I was offered beer, but I denied. I didn't drink.
I was offered pot, but I denied.
I was offered coke... I didn't deny. I took a sniff.
I reminisced and figured this was over three months ago.

I was losing myself. I was losing myself. I was losing myself to something, something wrong.
I needed help. I still do... I want help.
I ran out the door the next day... being someone new. Someone different.
I was being the new me. Same personality and looks but not one who did drugs... someone who was free.
I am not saying this isn't going to be a battle, I'm saying I'm ready for the challenge.
I am ready for someone new. A fresh new start. My second chance.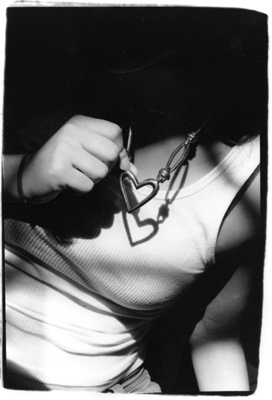 © Julia R., Bethesda, MD