Dragons the Masters of Death
April 6, 2009
Life is like a dragon.
It can be magnificent
but dangerous.
Fear it's anger and
wrath that it will
bring upon you
if you dare to challenge
it's throne.

Fairies dance on
the silver and gold
treasures, he breathes fire
once more and the ghastly
tips of death reach
it's charred fingers to bring you
to your end.

Hands of millions of knights
reaching through the
floor, tugging your legs
their nails piercing
through your skin
drawing blood
dragging you down into
the depths of darkness.

When he speaks his native tongue
and it flickers
in and out of his mouth
you can see the stains of herbs
of the many times
he's had the nymphs
tend to him
when he thinks
that his first and last tear
is about to drop.

And when he gets a hold
of you, cause
in the end we all must perish,
he will tear your skin
ripping it to shreds
pouring your blood
onto the ground
in which your ancestors
have already perished on
and you will suffer
till the very end.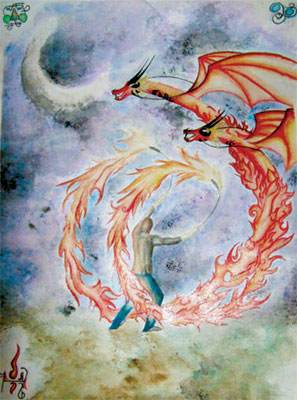 © Garrett P., Reno, NV