The Struggle We Face (As Writers)
February 15, 2015
I've loved writing ever since I was young. Reading everything from road signs to restaurant menus. All of it was just so fascinating! But now that I've entered the world of competitive writing- the kind where people want to get published- it's much harder to fall in love with my stories like I did when I was eight and wrote about potatoes.
Nowadays I have to watch for typos and usage of weak verbs. It just isn't as easy as it used to be. I try my best to put meaning into what I put down on paper or type up on my computer, no blood sweat or tears involved. It's effortless to become frustrated once you realize the simple fact that it isn't a simple process.
When I got to that point, I consulted my extremely witty and helpful Language Arts teacher. At the beginning of the school year, he proposed a "dare" to the middle school I could not resist. He said that if one of his students were to get published, he would buy them their first inkwell pen (his signature utensil.) Ever since, I go to him for advice on his seemingly impossible task.
I wrote in my writers journal about being afraid of getting published and about my discouragement. I got it back a few days later after receiving my grade, and there was a comment on that entry that read:

"The thought of seeing your writing in print can be daunting. Don't write something because you want it published. Write something because you want it read."
It's crazy how three sentences can make writing so much simpler. So to all the struggling, aspiring writers out there, whether your a poet or a playwriter, writing about something you're passionate about is a whole lot easier, and sometimes better, than trend-writing about something you know nothing about because you want to impress.

Think about that, and fall in love with your writing again.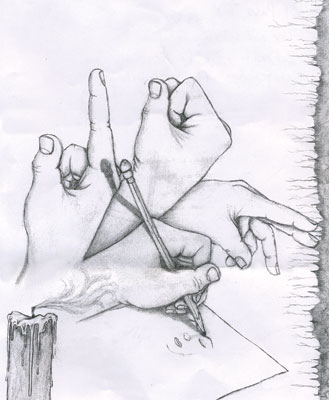 © Christopher M., El Paso, TX