Why Everyone Should Go Camping
April 8, 2020
Lord Baden Powell, a British general and founder of the Boy Scouts, said "A week of camp life is worth months of theoretical teaching in the meeting room." Going on a campout can be one of the most rewarding experiences of your life for more reasons than social. Imagine a man who works behind a desk every day from 9-5. He's feeling depressed and is wondering if what he is doing is really worth it. But then he goes on a camping trip. He realizes that this is what he had been missing out on behind his desk, missing out on the sight of the trees, the sound of the streams, and the overall feeling of happiness and mental well being from being out in the woods with his friends. There are so many benefits and reasons for why you should go camping. Everyone should go camping because of the many health benefits, the many incredible places that you can go camping, and the amazing adventures that you can have while camping.
The first reason that you should go camping is the many health benefits. First off, there are many mental benefits to camping. In a study by the University of Michigan, they had a group of people take a memory test, and then split the group in half. One half went on a walk though the city and the other half went on a walk through a local arboretum and then returned and took the test again. After the second test, the group that walked through the arboretum did much better that the group that walked through the city (Friedman). There are also many physical benefits to camping. One physical benefit is improved eyesight. In a study by the University of Sydney, they monitored 2000 school-age children. They found that the ones who played outside more had less of a chance of getting myopia, or nearsightedness (Friedman). Lastly, there are several social benefits to camping. Camping is a great way to form friendships and reinforce preexisting relationships and friendships through a shared experience. Now that we have covered the scientific reasons to go camping, let's move on to the more fun reasons to go camping.
The second reason that you should go camping is the amazing places to go camping. One great spot to go camping is in a national or state park. One incredible place in Georgia to go camping is Amicalola State Park. Not only is it home to the largest water fall in Georgia, this beautiful park has miles of well maintained trails and campsites in the park. If you don't want to camp in a tent but still want to be outside, then you can stay in one of many on site cabins. There are also several other locations that are not state parks that are great for camping. One of the best places to go is a Boy Scout camp. They are always well maintained by a group of dedicated rangers. Boy Scout Camps also have many well maintained trails, and if you are going during a summer camp program they will have climbing towers, swim and boat docks, and many other programs open for you to enjoy. Just a warning though, you have to be a Scout to use their facilities. The last place to go camping that most people don't think about is their own back yards. As long as you have a big enough yard, you can have a campout there. It's a good way to test out your new gear and make sure that you know how to set up a tent. Now that we've covered the many incredible places to go camping, let's move on to the amazing experiences that you can have while camping.
The last reason to go camping that I will share in this paper is the wonderful experiences that you can have while camping. One of the best relaxing things to do on a campout is to just sit around a fire with a group of friends. It's especially satisfying if it is a fire that you have helped to build yourself. Campfires are also a great place to tell stories, sing songs, and, of course, roast marshmallows so that you can make s'mores. Another fun thing to do on a campout is to go on a hike or boating trip. Whether you want to just go for a stroll through the woods or go on a backpacking trip, there is a trail for you. Boating is another great way to relax. My personal favorite type of boating is canoeing. Almost anyone can learn to canoe, and it's a good form of exercise and a great way to travel. Something that you can also do if you are at a national park is exploring the park and visitor center. The visitor center typically has interesting and useful information about the park, the plants and animals that are found there, and the park's history. One great place to go is a historical park. Many have interesting monuments and exhibits on the historical events that took place there. The last thing that you can do if you are prepared and up for a challenge is to go backpacking. There are many local trails that you can use, but if you are up for a challenge then you can try and hike a trail like the Appalachian Trail (AT), which runs from Maine to Georgia. However, you should only try to do a trail like the AT if you have plenty of experience with backpacking. As you can see, there are many reasons to go camping.
Everyone should go camping because of the many health benefits, the remarkable places that you can camp at, and the incredible experiences that you can have while camping. Imagine the fun that you could have if you and your friends went out camping and enjoyed the outdoors. Imagine yourself sitting around a campfire, eating s'mores and telling stories and jokes. Maybe later you'll go rafting down a river or hike to a beautiful waterfall. But no matter what, you're going to have fun. Why in the world would you miss out on an adventure like this?
Works Cited
"Benefits of Camp". American Camp Association. acacamps.org/campers-families/because-camp/benefits-camp. Accessed 3 April 2019
Friedman, Lauren F et al. "11 Scientific Reasons that you should be spending more time outside". Business Insider. 22 April 2016. businessinsider.com/scientific-benefits-of-nature-outdoors-2016-4. Accessed 3 April 2019.
"Why Camp?" National Park Service. 25 July 2018. nps.gov/subjects/camping/why-camp.htm. Accessed 3 April 2019.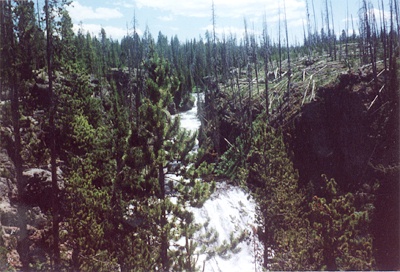 © Josh W., Peoria, AZ