How Does Dance Impact Students' Daily Lives?
December 10, 2018
Everyday in school there are always students that isolate themselves from the world. They don't really like to express how they feel or how they think like others do. Shoot, they even cut people off from their lives sometimes. The reason being why is because they are either mistreated or they just haven't been exposed to that side of school where everyone accepts others. It's true that there are people that have their own groups in school. Most of the time they will not reach a hand out a say, "Hey, you wanna come hangout with us?" This is one of the things that dance can fix within a matter of days.

Dance is impactful on students daily lives because it is able to change the way they act, think, and feel. One main factor that dance plays is that the people that are in dance and values it, view others in a way that other people don't. Dancers are able to open up to people no matter who they are. They wish for everyone to grow and are willing to help guide them. I kid you not, dancers are always inspiring, motivating, and training. Real dancers don't dance to impress, they dance to inspire.

I understand that people are different, but even then dancers will always reach out to others. Dance itself helps out those in need to break away from this world and go into their own world. Dance gives you the freedom of not having to be isolated and locked up in a cage all alone. When you dance it feels as if there is nothing that can bother you and I would want the students to feel the same everyday. I want them to feel as if they've got nothing to lose, so that they will be able to break away from their darkness and push forward onto a brighter future with everyone they encounter. That's what dance has done for me all this time.

Some people say extracurricular activities are too expensive; however, have they really thought about what it can do to help change their or their children's lives? Sure I know how expensive they can be, but it can be the key to a better life. Knowing yourself and trying to better yourself is what really matters, but you can't really know how to better yourself if you don't do anything else on the side.

You could very well say that the way dance makes you feel, it's like a bird being released from its cage. For example, when I was going through hard times, my friends reached out to me and said,"Hey don't worry about it buddy, just come dance it off with us." During that time while I was dancing with everyone, it just felt amazing because they were so kind and open. It was as if all thoughts in my head vanished because of dance. Dance can get rid of many problems that we students have to deal with everyday. Once everything is out of the way, this is where I start to develop passion for the art of dancing. At this point, I only want to grow more and go further into dance, it's just how it is.

Forgetting oneself is common and I get that people go through this phase, but remembering oneself is another thing especially when it involves dance.Another example is when my dance instructor is at a lost, she goes down memory lane and remembers what dance has done for her and remembers the things that she has done with dance. After that she goes back to her old normal self. She pours her heart out into every performance, even freestyling. She is stressing out a lot because she is that age now where she's looking for a big girl job and having to deal with teaching as well. Dance is what opens her mind and she's growing everyday.

There is real potential in dance itself that can change a students whole life around. It's not guaranteed that change will happen, but when it finally clicks then you will notice the difference. Once change happens through dance, you wouldn't want to be the same person you once were. Your mindset is changed and focused on growing and accepting others. Dance is a powerful thing. It has done a lot for others including me.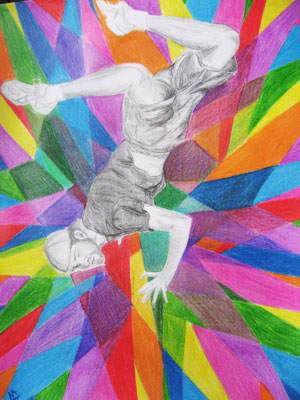 © Carollynn G., Hawthorne, NY