Five Common Anti-Bullying Myths
January 26, 2012
I was extensively bullied in high school. This isn't my sob story—this isn't even my story. These are just the things anti-bullying advocates have to keep in mind. It isn't just laws that have to change; it's attitudes.

And these are the things most commonly told to victims of bullying. They would devastate anyone, and more importantly, they don't work.

Common Bullying Myth Number One:

Ignoring them makes it better. All they want is a response.

Why Adults Say It: Adults live in a different world than those of schoolchildren. In the workplace, there is harassment and meanness, but everybody's there to get something concrete from them, to bargain on their potential. And when your boss is mean to you, responding is often the worst thing you can do.

Why it's Nonsense: Bullies go for the passive kids, the quiet ones, the ones sitting alone and not protected by a group. They don't care whether you say something stupid. They're out to hurt you, however indirectly. The worst thing you can do is ignore them because it labels you as an easy target, because bullies don't want to be taken down a notch. Nobody does. The best thing you can do is stand up for yourself in a clever and creative way. They may not stop, but you won't have to suppress your feelings and suffer in silence--and you just might gain the respect of someone who overhears.

Common Bullying Myth Number Two:

Don't descend to their level. You're better than that.

Why Adults Say It: They're trying to make the kid feel better, to restore lost self-confidence. That's a noble goal, but this is the wrong tactic to take.

Why it's Nonsense: Lack of response provokes additional harassment, as I said before. Also, what this statement implies is that it's wrong to stand up for yourself, that to continue to be better than the bully you have to take it in silence. Of course backbiting and revenge should be dealt with, but you have the right to express your displeasure in a healthy way. Also, "their level" just sounds ridiculous to a kid with potentially damaged self-esteem and widespread feelings of inferiority. And to top it off, telling a kid this means that to continue to be a good person, you have to bottle up your feelings.

Common Bullying Myth Number Three:

They probably just do it because they have feelings of inferiority/a bad home situation/no one ever taught them better.

Why Adults Say It: I have no idea, frankly. Adults should know better than children that bullies come from various home situations, some of them excellent, and often they continue to be bullies into adulthood and are very successful and happy. Verbal or physical aggression can get you ahead in life. Perhaps they're trying to make the kid feel superior to the bully, but even if that works, it's not a good thing. Perhaps adults think of children as purer and better than adults, that kids can't be mean without a reason. But guidance counselors and parents and people who work with children in general should know better.

Why it's Nonsense: This makes it sound like you're siding with the bully, that they're really a good, misunderstood child. This makes the victim angry and closed off. The other possible—and worse—consequence is that the child feels sorry for their tormentor and doesn't want to 'get them in even more trouble' by reporting them.

Common Bullying Myth Number Four:

You should have told us before things had gotten so out of hand.

Why Adults Say It: Because they genuinely know that something could have been better if the kid had had the courage to come forth beforehand, and not gotten themselves into a bad situation. There is also a tendency to perceive children as more dependent than wanting to be independent.

Why it's Nonsense: Would a trained counselor tell an adult who had an abusive boyfriend that she should have told somebody beforehand? So why would a guidance counselor say that to a child who has been victimized and frightened into complacency by someone else? Because they're not thinking of the child, they're thinking of the problem. There is a difference.

Common Bullying Myth Number Five:

Why don't all three of us sit this out and talk it over?

Why Adults Say It: Because they are trained mediators and group therapy is one of the most commonly taught techniques to any therapist/social worker/counselor.

Why it's Nonsense: Guess what--no student is ever going to be completely honest around a teacher or counselor with the kid they've been harassing or accused of harassing. A better solution is to talk to each kid separately, and then perhaps hold a mediation session. Two people in a conflict are usually more rational outside of the conflict.

Note:

I have no intention of discrediting counselors or lawmakers. I just want to clarify that anti-bullying legislation will only work when attitudes change and the voices of bullied children are responded to rationally. Please keep in mind that I learned these lessons from my experience and those of others. For anyone who is reading this and suffering, please call the Trevor Project Hotline at 1-866-488-7386. Some wonderful people there--and I--promise life doesn't just get better--it gets awesome.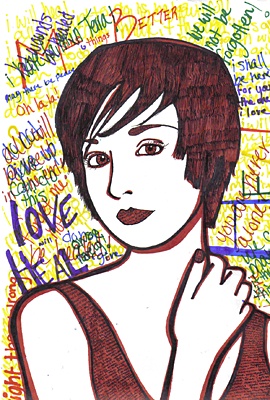 © Sara D., Aiken, SC