Walking on Broken Glass
May 31, 2011
Today has been spent willfully alone. Dramatically alone. The first thing anyone said to me today, which was said late afternoon, was not even directly at me but at a dog, saying, "leave that girl alone." and the first thing I watched on television this morning was an old Twilight Zone episode by the name of "Lonely". But, from this lonely and solitary day has risen an even better understanding of myself, for I have realized a name to put on my current position in life. Crossroads.

My life only starts from here. The decisions I make now influence where I go, who I meet, and where the trail shall take me. I feel as though I am blissfully tip-toeing through the tulips, while being unaware that they grow on such jagged and treacherous articles of glass. I am blindfolded, strolling through meadows of bluebells and songbirds, though through a rip in the stitching I can see only thorn bushes and crows.

Its decision time, though I have time to think out my numbers. North, East, or West: the answer is always the same. I must put my label on history, much like a canine on a fencepost. I am like the curious, determined writer and journalist, who lives by the slogan, "Get the Story", but first must find an angle to work by. Find an angle.

For example, one could write of the homeless population crisis inconveniencing San Francisco, O glorious San Francisco. But how? Would your paper be one to offer advice on preventing it? Cleaning it up? Helping those who are already faced with it? Fundraising? Prevent fundraising? The list goes on....

See, this is where I'm at: finding my angle. Not an angle to write a silly paper by, but to live my life by. I know the basic direction my life is heading towards: knowledge, documentation, rescuing our youths future, and save the skin which is of our environment. Helping to rehabilitate America's wellbeing, as well as creating a formal evolution for that of We The People. Restoring the economy, and teach people, young and old, how to use their brains again, this time with morals both modern and ancient. I would like to learn, myself, a few morals, modern and ancient.

I am striving to do all that, for I have promised myself long ago that I would. But first, I must find my own, unique angle to work from, and find a "Maude" umbrella for which to protect myself with, so to defend my views; after, of coarse, I find my views. What I mean is, if I were to want to make a lasting impact on the environment, for example, would I do so by designing bio-fueled cars? Or promoting wind energy, solar energy, recycling, or rebelling against water-bottle companies? Then, what would be my rebuttal? Would I say its an easy task, or that its an important task, or would I point fingers saying, "Its his fault!"?

This is my crossroads, full of decisions, decisions, decisions. May I just add, for good measure, that its not exactly the most lovely crossroads there is; you hardly ever find a crossroads on the beach or in a jacuzzi. My crossroads happens to be within the whirlwind twister that lies between the town on Teen Angst and Quiet Rebellion. Its dead center in the city of Growing Up and just south of Misinformation. Within a land of confusion, I am left here, yet alone, to fend for my own, while making such busy decisions, blindfolded, walking on broken glass.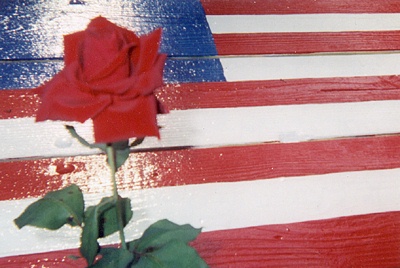 © Elizabeth H., Gulfport, MS