The American Tradition
February 19, 2012
Peace is a state of tranquility that most individuals wish to accomplish. However, when mass media promotes violence it begins to alter the mind of an American civilian. With daily news stories revolving around violent actions, it seems almost as if there is a certain tradition being followed. With video games that involve blood and gore, people become desensitized to the idea of death. This IS the American tradition.
This tradition began long ago. It's all written in the history books that students are required to study in their curriculum. Isn't it strange how almost everything written down in those textbooks are about war. Students in school are being taught about war heroes and how doing something great in a WAR is considered heroic.
In today's society, violence is spread through pop culture. Mainstream media is a machine that keeps producing these horrific stories. Video games such as "Call of Duty" and "Medal of Honor" are games that support war. These games along with others are very popular among the teenage community and even among adults. Anything involving war and homicide is put on the news and for what? To keep people calm? It's a statement made by America saying: "No worries, were killing everyone for a better tomorrow". It's repulsive to be a witness of all of this. We must destroy the American tradition by ending this massive obsession with war.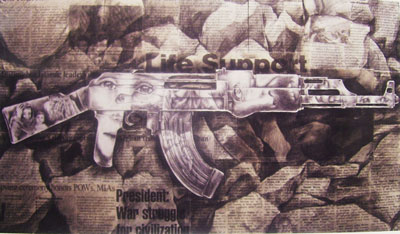 © Claire V., Lubbock, TX