Why I Love The Musicals I Love
August 19, 2014
I usually listen to mainly Phantom of The Opera, Les Miserables, and Love Never Dies.

People always ask me why I love the musicals I love so much and I always struggle to answer that. It's not that I don't have an answer, it's that I feel like nobody else feels how I feel about it…

I understand how the Phantom feels, how he has always been lonely and to finally let somebody into your life just to have them leave you for someone better. How important music is to him and how he loves Christine but is completely mortified by the thought of actually touching her. Not even sexually just, in general. When I was growing up all I ever heard was, "You need to be careful with the other kids because you're older than all of them" since I had a late birthday and had to start school a year later. Even now that resonated with me because sometimes I am afraid to touch people, whether it be a girl romantically or platonically.

Music is truly the only thing [I feel] that I can create that is beautiful. That masks all of my flaws, that distracts people from the hideous sides of me that seem abundant.

But most of all, I understand the feeling of betrayal that Phantom feels when Christine leaves and chooses Raoul over him. Not just the Final Lair scene when she ultimately chooses Raoul, but when Phantom overhears Christine and Raoul singing, "All I Ask of You". For some reason, "All I Ask of You (Reprise)" has always emotionally destroyed me. Just, you can tell how much he loved her, how much he had emotionally invested into their relationship, that she was truly the only person to look past his flaws and saw him (Phantom) for who he truly is. Then in the Final Lair (especially in Michael Crawfords version) when Phantom sees Christine for the last time and sings, "Christine, I love you". You can tell he has realized what he's done. That he was the one who pushed her away.

I'm in love with Love Never Dies, the shows plot is kinda iffy but the music is incredible! Especially Till I Hear You Sing, I've been practicing Till I Hear You Sing for some upcoming auditions as well as personal reasons. Though, sometimes I can't stand to sing the song. This is mainly because it affects me on a deep emotional level, maybe even affecting my soul. It physically hurts sometimes when singing the song because of this. The song is about losing the love of your life and just wanting to see her(/him) just once more. To hear her sing once more would make everything okay, making life seem bearable. Having gone through personal events, I can relate to the message of the song. Just wanting to see that person who seemed to be everything you could've ever wished for just once more. That you can't sleep or dream or function without her. That you need them in your life to be complete, to be emotionally whole and spiritually fulfilled. So sometimes I do get extremely emotional when singing Till I Hear You Sing, but I feel as though it enhances the song, to have raw emotion thrown into my voice, into the song.

I also enjoy Once Upon Another Time, Devil Take The Hindmost/Devil Take The Hindmost Quartet, Dear Old Friend, Love Never Dies, and Beneath A Moonless Sky. Each of these songs have their own meaning leading up to the intensity of love and forgiveness. Showing the intensity of passion and the need for someone on an emotional level.

Les Miserables is one of my favorite Musicals and I was lucky enough to also be in a production of Les Miserable as Joly, one of the students.

I enjoy Les Mis for many reasons, the salvation of Jean Valjean, the need for order that is Javert, the love between Marius and Cossette, but mainly for the Revolution.

I love the Revolution in Les Mis because, but on an even more indepth thougt, I love Enjolras. Enjolras is an embodiment of what I enjoy seeing in myself. The revolutionary zeal, the passion for what he believes in, even if that means death. The effect of brotherhood and companionship. Other than Enjolras though, I love the revolution as a whole. How this band of people will die for what they believe in. Having grown close to each other, having their own personalities that you really only get to know if you read the book written by Victor Hugo.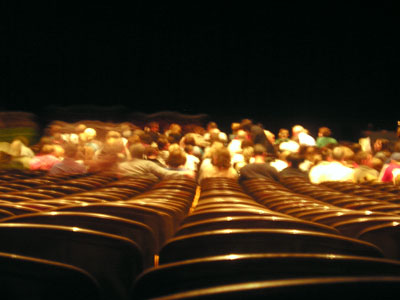 © Jessica P., Bethel Park, PA