The Perk of Being a Wallflower Playlist
November 11, 2012
Dust In The Wind- Kansas
Part 1 Chapter 1


Charlie's best (and only) friend, Michael Dobson, has just committed suicide. Charlie goes to a guidance counselor with some other students that knew Michael to talk about his death. One reason I chose this song was because of the similarity of the voice of Charlie and the lyrics. Charlie has a knack for over analyzing situations in a philosophical way, especially serious problems in his life, like his friend's death. "I close my eyes, only for a moment, and the moments gone". I also chose this song because it's poetic while also being very frank, like Charlie. "Nothing lasts forever but the Earth and sky".

Blackbird- The Beatles
Part 1 Chapter 1

Charlie is a wallflower. He observes his life and the people around him rather than interacting with them and participating in his own life. High school can be seen as his own "moment to arise". High school is a big opportunity for Charlie to try break out of his shell and participate in activities at school, therefore meeting new people and, hopefully, making friends. "You were only waiting for this moment to arise."

Hello- Lionel Richie
Part 2 Chapter 2

Charlie has come to the realization that he loves Sam. "I love you". He shares with us, though, that she now has a boyfriend named Craig. "Are you somewhere feeling lonely? Or is someone loving you?" Craig is in his twenties, and, according to Charlie, is "cut and hunky". (Craig is also a model.) Charlie's sister tells him that Sam used to have a promiscuous reputation, which distresses Charlie to think of Sam like that.

I Want to Know What Love Is- Foreigner
Part 2 chapter 10

It's Christmas and Charlie has given all of his friends and acquaintances gifts. Nobody has given him any gifts back, except for Sam, who gives Charlie a typewriter for him to pursue his dreams to be a writer. His gift to Sam is a record by The Beatles that was given to him by his Aunt Helen. In response to the gift she has just received Sam tells Charlie she loves him. In return, Charlie types "I love you too" on his new typewriter. Sam asks if Charlie's ever kissed a girl. When he says he hasn't, she tells him she wants his first kiss to be from someone who loves him because her first kiss was from one of her dad's friends. Sam proceeds to kiss Charlie. As described by Charlie in regards to the kiss, "It was the kind of kiss that made me know that I was never so happy in my own life". I think this is because Sam loved Charlie and did not want his first kiss to be meaningless and/or traumatizing like her own. "I wanna know what love is, I want you to show me".

Autumn Leaves- Susan Boyle
Part 2 Chapter 13

Charlie and his family visit Aunt Helen's grave. He writes that she was molested as a young girl, which caused her to drink, take drugs, and become promiscuous while she was growing up. She later sobered up and stayed with Charlie's family. When Charlie was younger a policeman came to his house on the day of his birthday party on Christmas Eve, and tells Charlie's family that Aunt Helen died in a car crash. "Too young to say, though I swear he knew".

King of Pain- The Police
Part 2 Chapter 13 and Part 3 Chapter 4

Before Aunt Helen got in the car crash that killed her, she was on her way to buy Charlie's birthday gift. This causes him to feel guilty and think that if she loved him less she would still be alive. Charlie goes to a party at Bob's where a kid named Mark gives Charlie a drug that makes him hallucinate. Later at the party Charlie hears Craig and Sam together. This just adds to his guilt over Aunt Helen and the fact that he's "seeing things". "There's a little black spot on the sun today, that's my soul up there". Sam tries to help Charlie get of "the trance", which Charlie does eventually get out of.

Beautiful Girl- INXS
Part 3 Chapters 7 and 8

Charlie goes to a dance. At the dance Charlie's sister and her boyfriend get in a big fight. She later tells Charlie that she is pregnant. Her boyfriend told her it wasn't his child and broke up with her. She asks Charlie to take her to the clinic, which he agrees to. He waits for her outside the clinic. When she comes out they say they love each other and drive home. When they get home Charlie stays and comforts her. "Beautiful girl (stay with me)".

Dancing Queen- ABBA
Part 4 Chapter 9

Although Charlie may not be seventeen or a dancing queen, this song does have something to do with this chapter. It's the end of school for Charlie and his friends. They all go to Craig's house for a party, where Craig recommends deejaying to Charlie. Charlie describes deejaying at the party as, "A great way to sit alone at a party, and still feel a part of things". Charlie has found a way to (somewhat) rise above his shyness and join the party, therefore, becoming a "dancing queen" (or king) in theory. "And when you get the chance, you are the dancing queen".

She Will Be Loved- Maroon 5
Part 4 Chapters 12 and 13

Charlie tells us that Sam and Craig have broken up. Sam found out that Craig has been cheating on her for the majority of the time they have been dating. Charlie says that he "wasn't happy about Craig and Sam breaking up, not at all". Charlie has grown to care more about Sam's happiness than his crush on her. Charlie and Patrick comfort Sam after her breakup by going out dancing. "Look for the girl with the broken smile, ask her if she wants to stay for a while and she will be loved".

Carry On Wayward Son- Kansas
Part 4 Chapter 14 and the Epilogue

Charlie goes to Sam's house to visit her the night before she leaves for her college summer program. They start talking which somehow leads to them kissing. Sam then proceeds to touch Charlie in the "bathing suit area". This freaks out Charlie and he gets really pale. Sam has him lie down and go to sleep. He has a dream of Aunt Helen. The next morning Sam leaves and Charlie drives home. He starts to act strange and hallucinate. He later figures out that he was molested when he was younger by Aunt Helen. Charlie goes to the hospital, while he's there his friends and family support him. Charlie ends his story by saying that he forgives Aunt Helen and that things are good for him "And even when they're not, they will be soon". "Carry on my wayward son, there'll be peace when you are done".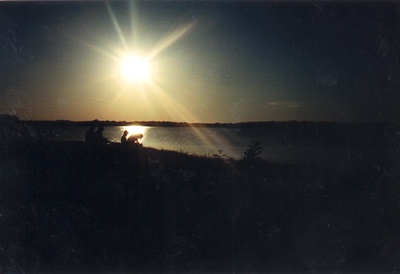 © Angela F., Bonham, TX