Don't Waste Your Life {Over Boys}
September 8, 2013
I was chatting the other day on Facebook with my friend and she began telling me a long, elaborate story about the boy she likes and this other boy who kept kissing her. She seemed proud of her "first kiss" and how they "made out in the hallway" at her school. She then said that she would "try" not to kiss him the next day when they went out with friends because she knew it was wrong. All of this drama was very fascinating and sad, but her next question punched me harder.

"I was wondering the other day if you like anyone, Cora, and how sad that would be if you don't. Do you?"

Wow. What has our world come to? Are crushes and relationships and boyfriends and "falling in love" all that matters? So that if I'm not swooning over some guy I barely know it's a horrible catastrophe?

I guess in the mind of a typical American teenage girl, it would be.

But me? I am perfectly content being "single" (Gosh, I'm only 15!) and not particularly "in love" with any one person. I love my friends and my family and my Savior. But the bottom line is that dating or "love" (and eventually sex) is one of the biggest and most dangerous distractions Satan throws at us in the modern world.

Earlier this year my family held a New Year's Eve party at our house and one of my guy friends was there. I had known him for about five months and we weren't extremely close, but some time during the evening he approached my dad and asked him if I could go out to a movie with him. My dad was shocked - no one had ever asked to go on a date with one of his daughters before (I'm the oldest). I was even more shocked when my mom told me the news the next day. I liked the guy as a friend, but I had no interest whatsoever in dating him. Unfortunately as a result of his hastiness, our friendship has never been quite the same since.

These are just two examples of the way teens think. Messages such as "You're not complete unless you have a boyfriend" or "You're not cool if you're not dating" or "You're missing out" or "The most important thing in life is true love" (ahem, Disney movies) surround us.

But it's all a joke.

Purposeless dating and impossibly high expectations about romance leave people crushed. Wounded. Unsatisfied. Longing. Depressed. Same with divorce.

When we believe those lies, we are distracted from what life really is about. We dream, flirt, gossip, and obsess over boys and the juiciest news. I can almost hear Satan laughing triumphantly when girls like my friend type to others how sad it would be if they didn't "like" someone or when a guy damages a friendship by bringing in the dating factor.

YES! the devil thinks, I'll get them thinking about those things, and not about God!

Or our real purpose on earth.

Or how wasteful people are with their lives.

Our how wonderful pursuing God is.

Or how damaging unending shallow "relationships" are.

I'm not saying we shouldn't ever date or that we should look down on anyone who does - I'm just saying that when all that consumes your life is what boy you're hitting on and if he notices you at all, you're being successfully attacked by the devil.

Go ahead, fall in love with the one God's planned for you. Have a wonderful, romantic life. That's certainly my dream.

But don't forget about God and your purpose here on earth.

Don't obsess over that person/relationship.

Don't waste your life.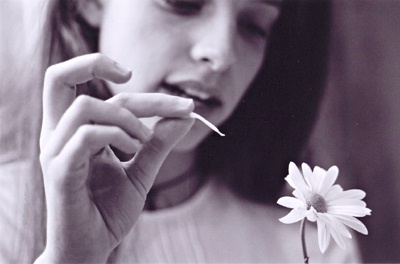 © Emily B., Houston, TX