Putting "Yes" to the Test
April 3, 2013
I've always been a scaredy-cat. Every opportunity I've ever been presented with, I've said no. Regardless of whether it presented any real danger to me or if I was only avoiding something due to potential embarrassment, I'd still say no. Then, I watched the movie Yes Man. The movie, starring Jim Carey, centers around a disgruntled man who attends a seminar which presents the simple idea that saying "yes" to everything will supposedly change your life. The movie gave me the idea to do that very thing in my own life and see what happens. For 10 days, I could only say yes. However, I outlined some rules at first.

1.
I will not say "yes" to anything that would cause potential danger or inhibit the rights of myself or others.
2.
I will take every opportunity presented to me, regardless if it is directly or indirectly offered.
3.
I will follow through with every opportunity.
4.
I will record every time I say yes.
5.
I will do this from the time I wake up on Friday the 1st to when I go to bed Sunday the 10th.
6.
I will only follow opportunities that are serious.

The rules would protect me, and those around me. As well, I took the liberty of keeping my mission for the most part on the down-low. I was excited. The morning of Friday February 1st came and I hopped out of bed, my mind was spinning with all the possibilities. In reality, I knew I'd most likely discover nothing life-changing, but there was a hope I might.
The day went by very slow and as I walked through the door Friday afternoon, I felt slightly uneasy. I was headed back to my hometown tonight, to my friend's house. The possibilities were endless. The whole drive I was fighting butterflies, imagining some wondrous situation I'd be forced into. Asking a stranger to dance? Performing multiple triple-dog-dares? Something crazier, I wasn't sure. I pulled into my friend Kort's driveway. We hugged and began to relax and catch up. I tried to hold my tongue, but I was beyond curious as to see what she thought, so I told her. She was a bit surprised I'd agreed to do such a thing, but there was no astonished reaction. Later on, our mutual friend Waverly came to join us. Like Kort, I told her my mission. Wave—being the witty jokester she is—found it irresistible to try and turn me into a personal slave. I had to fetch drinks, throw away trash, retrieve items from bags, and throw myself down the stairs once (not fun), but it was all in good spirits. Then, Kort brought up the idea of bowling.
I don't bowl. Or do any sports in general. I'm beyond un-coordinated and just dislike sports, so I wasn't too gung-ho on the idea. But as my mission stated, I had to agree. We scraped together some money and headed out in the snow. I was dared yet again by my girls to sing along to the radio in as many accents as I could along the drive. When we pulled up, and I saw all the cars, I started to get nervous. I hadn't been to my hometown in a long while, and didn't know who I would run into inside. I wasn't sure how many teens went bowling on a Friday night, but the risk was still there. We got our lane, changed shoes, and I prepared myself for the night.
I don't take myself seriously. It all stemmed from a football game sophomore year when I ran around with a streamer tied around my neck pretending to be a dog, that night I saw one glorious thing—I didn't care. For the first time in my life, I didn't care what the girls from my art class who were so dutifully turning their noses thought, what my friends thought or any of the other adolescents that I called classmates cared about how I looked. And I didn't care how stupid I looked either, I was having fun. Back then is when I learned the secret to life—have fun—that's it. Do whatever you want bearing the knowledge that the people you might offend won't matter in the long run, so bowling should be no big deal.
After having to ask for two hot dogs for my friends as I was their servant, it was time. I was last to go so I watched Wave and Kort throw and roll decent scores, then it was my turn. I started off pretty well. But as soon as I got my first gutter, instead of letting it get to me, I turned around and all-out cheered like I'd gotten a strike. Kort and Wave—without missing a beat—cheered right back. The night turned into attempts at getting as many gutters as possible. We tossed the ball between our legs, backwards, and flat on our stomachs. All the while singing along to the radio and dancing with each other. We were a rotten bunch of idiots, but we had a blast. I ended up with a 42 (pretty terrible) but left with a smile (perfect score!), which mattered so much more.
I spent the whole next day anticipating the dance. It's tradition in Delaware to skip the Formal dance—it's generally considered lame. But I was going. My mother was still back home in Findlay, and I was getting ready for a dance for the first time without her. When we were all finished, it was time for pictures. I stood alone in the center of the makeshift backdrop—with Wave, her boyfriend's arm around her waist, while Kortney texted her crush—and realized how alone I suddenly felt. I was going to a dance for the first time in two years without my best friend by my side. I'd dated the same guy for two years, our relationship fizzled out when I moved, and he'd already moved on. But as the cameras flashed in my eyes I felt myself missing his arms around my waist, posing painfully. I missed seeing my mother on the other side of the camera, smiling at me. I missed her telling me how pretty I looked, or to relax, or snapping at me for tearing up. I wasn't sure what I was doing, and I just hoped it'd be fun.
Upon arrival at the dance, I ran into my friend Isabella, and made her aware of my mission as well. We caught up and then it was time to dance. I've always loved dancing. It's so freeing, so beautiful, and just lets me let out everything I'm feeling. I'm not great at it, but it's the fact that I manage to try that matters. In high school, you're not supposed to like dancing. You're supposed to want to grind, not actually dance. As the opportunity to make myself look as silly as possible dancing like I wanted presented itself though, I took it. We danced like fools around one another, singing along as loud as our voices would carry just like we did while bowling; making sure everyone was having fun. Then, another opportunity presented itself.
Michael, a mentally challenged boy that's been with us since middle school, came up to our group. Kort and I each took one of his hands and let him into our group, cheering him on as he danced. I felt good, I was doing good. I realized I would've done the same thing, even if I wasn't supposed to. Another boy like Michael in our school joined our group, and we all danced front stage. All the other underclassmen, which were grinding and so concerned about their appearance, just looked on.
When it was all over, as the chaperones ripped down decorations and diligently popped balloons, I was happy. Kort and I danced at each other, belting out "Don't Stop Believing," as they flipped on the lights and things winded down. The drive home was nice, as we recollected the night's experiences, and talked about plans for Prom. We took the parking spot by her house and she shut off the car. I pushed open the door and stood on the curb in the snow. As she closed her door too, I realized something. Quiet snowflakes fell across our faces, leaving little wet-spots in our hair. There were no automobiles, no voices, no dogs barking, nothing. Absolute silence fell across us. I looked at her, tears again brimming in my eyes. "Don't move," I whispered. "Everything's perfect. For the first time in a long, long time everything's perfect." She hugged me and we stood there for a while and caught snowflakes across our tongues. Wave came over later after taking her boyfriend home, and we spent the night laughing while they dared me to do more crazy things.
As the weekend drew to a close, I was ready for the week. Sadly though the first few days were uneventful. With no one aware of my challenge, no one asked me to do too much. But on Thursday, while stumbling over The Courier, I saw another opportunity. A photography contest for Hancock County Parks was going on, and the deadline was Monday. I had a few very nice photographs I'd taken at Riverbend Park back in October, and prepared myself to enter them. It didn't take long to get them printed, formatted, and ready to go. I also took the liberty to print old photographs to hang up on my wall, even the ones I was scared to remember. The week presented no more opportunities unfortunately. And though I didn't win anything at the photo contest, I'm still glad I entered.
As the night of Sunday the 10th wrapped up I wasn't ready to see it end. Nothing drastic or life-changing happened in that short time, but I took away from it one thing. Something I'd known all along. As I looked back at the pictures of my friends and I dancing, without a care in the world what anyone thought, I was proud of myself. For being the biggest scaredy-cat in the world, I had done something most teenagers couldn't manage to. I was myself for one night—even without a perfect dress, perfect hair, perfect makeup, or a perfect guy—and everything was still somehow amazing.
Through those few days and every day since I've taken something to heart. There are opportunities all around us, every single day. We should take them, every chance we get. Not because they'll change our lives or because they'll be perfect because they won't. We should take them for the sheer fact that even if they are minuscule and imperfect, they just might be amazing too.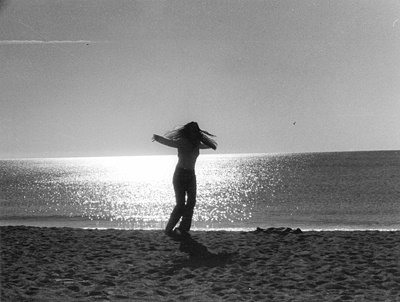 © Denise A., Marblehead, MA