Don't Define Love for Me
May 3, 2012
Why is a long, (let's say mostly) happy marriage full of compromise and sensibility and healthy offspring named "the real thing?" The notion that "real" love belongs only to the sixty year old couples, who still peck kisses onto each other's cheeks in the presence of there ever-growing population of grandchildren, is absurd. Who are adults to define love for us and even have the audacity to declare ours unreal? I believe every time someone, of any age, says, "I love you," they mean it (at least to some extent).
When a small child (five perhaps) tells their week-long friend that they love them, he/she means it. As far as the child understands, love is appreciation towards another person who makes you happy. Love is easily given and equally easily given away, as in the middle of a temper tantrum; a child may proclaim their hatred towards their parents. However, parents need not fret; hate, in this child's vocabulary, is just discontent and perhaps disappointment; the child will easily return to a happy "loving" state once the screaming subsides. Children's emotions can be fickle, and being impulsive, they tie their emotions to their feelings of love (and hatred).
As this child grows up, their memories and experiences with a person tend to take over their definition of love. Kids (around 12 or so) love their parents because they remember their parents always being there for them. In much the same way, children love their siblings and friends because they possess many, many happy memories with these others. Love is harder to take away, as experiences are not easily quickly forgotten.
Now for us, the teenagers, and our definition love. Teenagers are mostly concerned with romantic love, so I'll focus on that, although we still possess love for our parents, siblings, other relatives, and friends. We do fall in love, in high school, in college, and even in junior high. We interact with members of the opposite sex, and feel attracted to their looks and mannerisms, and are compelled to spend more time with them. We admire one another's looks and actions, and we call this admiration love. True, with teenagers, love can be evanescent. A girl can fall quickly out of love with a vampire and into love with a werewolf. Be we do love them, adults, do not criticize us; we have deeply rooted admiration for these people or even characters we have never met. In the same way, we love the boys or girls who roam the hallways of our school, we admire them so much our heart seems to melt under their stare.
To recapitulate, beside the well-know definition of adult love, which results from time-proven trust and companionship, there are other types of love. Small children believe love is appreciation towards other people. Older children think love should be given to those with fill our memories with joy. Lastly, we, teenagers see our evanescent love emerge from admiration of another person.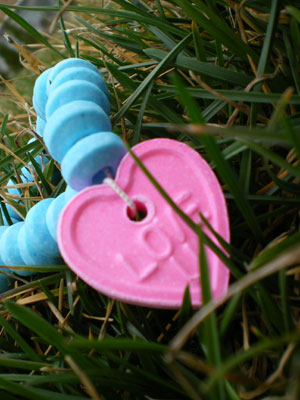 © Jennae P., Kennewick, WA