True Love
September 9, 2011
"STOP HER!" I heard my heart speak so loud to me as I watch the girl that never stopped amazying me as she walks away from me, of us, forever.

Her name is Natalie Elizabeth Edwards with big brown eyes and a independent attitude that never seemes to change. I love that the most about her. She also has short red hair that matched her firery attitude. She may not be the perfect girl, but she's just what I need.

Natalie and I have been a complicating pair. We've never offically dated, but God I wish I wouldn't have got sucked in by my crazy ex girlfriend, Catie. Catie ruined things for me and Natalie for a while. After a couple months of not seeing her, I go to Natalie's grandma who just happened to live next door to my pa.

"Natalie." I say solumly as I see her at the computer with no make up on, her hair unbrushed, and she is still in her pajamas.

"Jared." she says giving me that cheeky grin that made my heart skip a beat.

"Could I talk to you?" I ask her. Her face drops and she spins the chair to face me.

"Uh oh, the last time you said that I thought it was goodbye." she says with a shakey voice.

"No, nothing like that." I says, but she gets up and leaves the house.

This brings me to my final decition. I run after her as fast as I can to catch her. I finally catch up to her at the back porch of her grand parents house. I turn her around and pull her into my arms. She looks at me for a moment then I let my heart take over, and I just kiss her as hard and long as I possibly could. She kissed back too and by the time we finally pulled away she had her legs wrapped around my waist with her arms tight around my neck.

"Does this mean we are together?" she asks softly leaning her head against mine with her hand softly tracing the back of my neck.

"Yes, for a long time beautiful." I say holding her tightly around the waist. She smiles and presses her nose against mine.

"Perfect." she says pressing her lips to mine gentally. I feel like the world is perfect.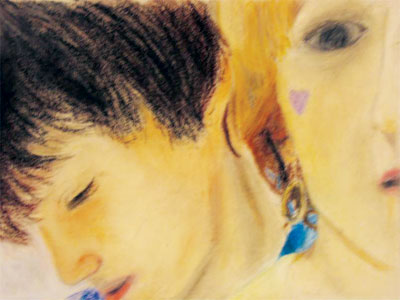 © Natalie D., Ames, IA