My Favorite Shirt
MAG
January 19, 2008
Love. It's a simple but overused word. I love you. I love this song! I absolutely loved that movie! The word doesn't mean much anymore, not to most. Some people scoff at it. We throw it around like a used shirt, wearing it because it's comfortable, safe, and secure, but never truly understanding why we have it. We lend it out, forget about it, and years later, we think, "Hey, I really liked that shirt."

But do we care? No. It's probably gone now, thrown away because of a rip or sold for $3 at a garage sale. We forget; it doesn't matter after that.

Then we see the world fall apart. From the safety of our living rooms we watch amateur video on the news or Internet, and sometimes we feel so helpless and alone we're not sure what to do. We cry for the inhumanity, scream for the injustice, and wonder why the world is this way. We think we can change the world; we know we want to help those who need it most … then we remember that T-shirt we threw out years ago.

We want it back; we fight and scramble for it. We go out and buy new shirts, try them on, but none seems to fit. We've lost it – we've lost love. We are unnerved for a bit; we sit alone and beat ourselves up for letting it go. Then we just we shrug it off. We say, "I'll do it later" or "I'm too busy." I'm guilty of it too: "I don't have the right resources" or "I'm too young" or "No one will care." And it seems as if no one does. With high school students only bent on the next party or who's dating whom, you wonder if, in the end, their shirts were ever worn.

Is my generation going to save the world? We try, a small group of us, but our shirts are faded among the bright colors of greed and the everyday and the wanting. We are pushed into the background. We try to push our way through the crowds, and we truly wonder: where has the love gone?

I don't want my love to fade; though my shirt is tattered and worn, I wear it daily. I am honest and open, and when I say that simple, dead, four-letter word, I mean it. I know I've made mistakes with it in the past and I almost threw my shirt away; I carry it carefully now. It's close to my heart, where it's meant to be. I do lend it out every once in a while – I let those who need it try it on and feel the safety that I feel. I leave them pieces when I go, but my shirt never seems to tear. It stays just as simple as it ever was.

When the time comes, I will stand alone in this world and stare into the eyes of those with the shirts of greed and want and lust, and I will know that even though mine is not the most beautiful shirt in the crowd, it's among the best.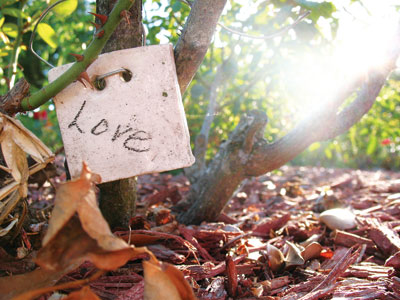 © Anonymous