Nothing but the Truth
September 18, 2010
Nothing but the Truth
Perceived Notions
It is said that as a child, or even a young adolescent, all you see is the material things in life. Lessons that may carry on for years to come mean nothing, and ethics and morals are placed in the very depths of the mind, sometimes even unfound. As you grow up into a mature adult, you gain wisdom and a better idea of life. But there is a certain part of the human mind that remains the same no matter how old we are.
What is the reason we strive for excellence? What is the reason we try so hard to either fit in with the "in crowd" or be one of the "popular" guys in school? When we each look in the mirror, there is always something we don't like; something that is not perfect enough, or something that doesn't resemble the way someone else is. Most of us take this self criticism and go to the ends of the earth to try and solve this "issue." Why do we do that? Why is it that the only one who sees the negatives is that person themselves? When we look in the mirror we want to see someone worthwhile; someone that people would love. Growing up, parents and teachers tell you to strive for excellence and to be yourself, and to try your best. The truth is, to the person reflecting on themselves, their best isn't good enough. The reason many of us work hard is not to simply please the dominant and influential figures in our lives, but to prove to ourselves that we are special, and have something good in us. It is to show that someone does care about us, and that we are worth something to society, whether it be school or community or even country. Psychologically, the human mind has a need to grow. There is a need to be a little better every hour of every day. In our minds we know that if we do not meet/exceed the expectations of others, then we do not fit in. But more importantly, if we do not meet the unimaginably high expectations that we put on ourselves, we risk being utterly disappointed. At that point, no elimination from a group or sharp retort from an elder can hurt as much as not being able to do what you once thought you could. There is a part in all of us which needs to know that if we were to leave for whatever reason, we would be missed; that once we move on further in our lives, we leave behind a legacy and effect on the people with which we've interacted and become close to. People don't just give love away for free. They expect that if they make sacrifices, then sacrifices should be made for them. They expect that if they cared about you, then you care about them. We all want love coming in many different forms. We all want to matter. We all want to belong.

It seems so simple to state the facts; to analyze ourselves and point out our flaws and feel sorry for ourselves. Yet as the years go by, we realize that nothing has changed. Since day one, we have made ourselves do things for the approval of others, and to this day nothing has changed. What have we learned? What is the trick to discovering happiness and recognition by others? What can we do to achieve this?
Before we go seeking the acceptance of others, we must first give permission to accept yourself in entirety; complete with all gaffes and glories that life brings in its wake. As someone great once said "There is no reality in perfection, it is in the perception of the person themselves." The Leaning Tower of Piza is cherished for the way it defies the laws of nature, there by defying all laws of perfection as well. Esteemed artist, Pablo Picaso, was thought of as strange and abnormal, but today his paintings are some of the most well-regarded pieces of art in the world. The examples are endless, but it all comes down to one's self. The need to belong and to be loved will always be a defining source for the actions of our daily lives. However the key to being happy, and nothing but the truth at that, is to love you first.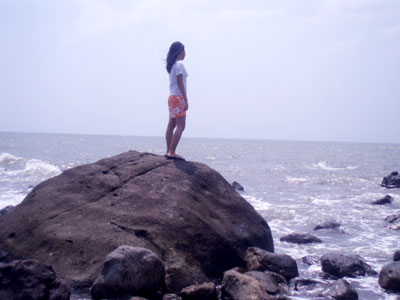 © Grace L., Bacolod City, Philippines