Why I Don't Like Justin Bieber
January 16, 2011
Justin Bieber, the iconic Canadian teen pop star. Cause of so many swishy, bowl-like haircuts in North America and beyond. Writer of such deep, thought provoking lyrics as "Baby, baby, baby, oh-Like baby, baby, baby, no-Like baby, baby, baby, oh" Player of millions of girls across America. He has come to rule our nation, seemingly overnight.

You can probably tell by now, I really, really, don't like him. But that isn't to say I don't respect him. I do respect him, because I have to. A guy who can cause millions of girls to fall in love with him, simply by singing shallow songs in a high, girly voice, deserves our respect. A guy who can maintain his image of a ladies man, while claiming that his favorite color and animal are purple and dolphins respectively, deserves our respect. A guy who was born with an innate musical ability, and taught himself to play multiple instruments, deserves our respect. And so, as much as it pains my cynical, world-hating self to do so, I respect Justin Bieber.

However, as I said before, I really, really, don't like him. I am someone who values individualism and self-expression over all else, and so everything I hate is embodied by Justin Bieber. He is a corporate image, a puppet used to make money. He has allowed himself to be molded, from a respectable, ten year old street busker from a lower middle-class family, into a pop culture drone. He is no longer his own person, but an object, manipulated and changed by the wants of the public. He spends too much time on his hair, and others spend to much time on his image.

Anyone can see that he loves what he does. He really enjoys making music and performing, a passion which I share and respect. But, anyone can also see that he is crippling our countries youth. By spreading his message of consumerism and fitting-in, he is completely reversing the 70's. It used to be that music was about breaking from the norm, and being your own person. Now music defines the norm, putting down anyone who defies it, and Bieber is a shining example of this.

But some part of me still respects him even for this. After all, he has played the system. Used the droning masses to build himself an empire. He herded the flock of sheep that is America's youth, and used them to drive the motor of his success.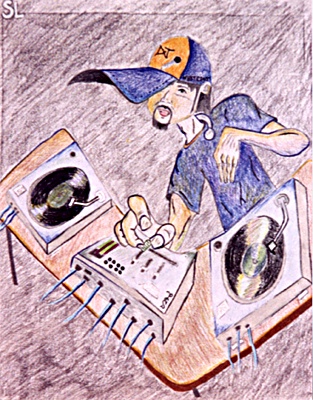 © Samuel L., Tracy, CA