Modern Slavery
MAG
July 2, 2009
In 1927, the Slavery Convention outlawed the ­institution of involuntary labor in order "to bring about, progressively and as soon as possible, the complete abolition of slavery in all its forms." ­However, in a report by the United Nations Office on Drugs and Crime (UNODC), human trafficking, or "modern slavery," is among the most lucrative ­illicit businesses in the world.

The trafficked are exploited physically and chosen because of their vulnerability. In my history class, we are learning about the Civil War, Ruby Bridges, and numerous civil rights acts: events viewed by many Americans as heralding the downfall of slavery and the long stronghold of the concept of racial superiority in Western culture. It is shocking therefore, that the UNODC report estimates that 3.2 million people were taken from their homes to another country and forced into slavery last year alone.

According to the UN, Pakistan is one of the world's largest centers of human trafficking. As a ­result of large tribal communities, high illiteracy rates, extreme poverty, cultural prejudices against women and children, and a remarkable gap between the law and reality, between 500,000 and a million children (often girls, age 4 to 14) work full-time in the Pakistani carpet-making industry.

Children are often sold by their ­parents into servitude as a source of ­income and a means to reduce family expenses. For intermediaries who arrange the sales, and for buyers who use the child labor, children are a cheap and secure source of labor and provide a competitive advantage in international trade. These children are not given proper housing, medical attention, or ­education. The international community has pressured the Pakistani government to address this issue. However, human trafficking is an integral part of that nation's economy, and therefore the government has issued ­minimal laws and created no programs to compensate or aid victims.

Many other countries hold economic stakes in human trafficking. In many cases, monitoring and policing are even more complex. Turkmenistan, for example, is a source for trafficking women into ­domestic servitude and sexual exploitation in Eastern Europe and the Middle East. The UN urged the country to take action, but no cases were prosecuted, no funds were designated, and the government still ­refuses to denounce trafficking.

Similarly, the U.S. government has not given this issue enough attention. The Department of Justice ­estimates that between 14,500 and 17,500 people are trafficked into or through the U.S. each year to be used as sexual, domestic, or agricultural slaves.

Transnational crime is notoriously difficult to ­police and prosecute, and when it comes to human trafficking, source country governments are usually unable to eliminate this trade – if they even care to.

The trafficked are often geographically removed from their families and home regions or countries. If they manage to free themselves or are freed by law enforcement officers, they are usually totally helpless. And if their families or communities have been complicit in their slavery, or if they were forced to perform work that carries a social stigma – such as prostitution – victims cannot return home. Since social shaming of returning slave workers is a major problem, it reduces the likelihood that the perpetrators of these crimes will be brought to justice and helps maintain the conspiracy of silence. Traffickers have few disincentives to cease their human rights abuses.

Our world is based on monetary values: we see material objects as the number denoted by their role in society, their price. This mentality can be dangerous when placed on material items and is insane when applied to human beings.

This issue deserves our attention because if we as a global community take an active role in stopping this atrocity, we can prevent future dependence on slave labor. But if we continue to allow human trafficking to simmer under the radar, we will allow for the ­infestation of slavery. Crimes against humanity affect all of us. It is everyone's job to stop it.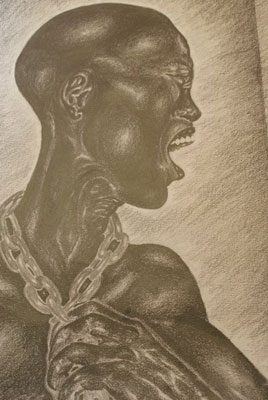 © Catherine M., Bronx, NY