How has COVID-19 affected access to education?
December 31, 2021
Though the first cases of COVID-19 was detected back in December of 2019,the real impact began towards March 2020,when the virus spread around the world,leaving hospitals overwhelmed with well over 5 million deaths globally. This led to school closures among the many other restrictions put in place,leading to a new platform of education—online learning.No one was prepared for this and a lot of issues came to the surface during the remote instructions including unequal access to education,digital divide due to financial restraints of low-income families and gender inequality.
So how has COVID-19 affected access to education? It has had a massive impact,because statistics addressing the 4th UN Sustainable Development Goal about quality education prove that COVID-19 has wiped out 20 years of education gains and an additional 101 million or 9% of children in grades 1 through 8 fell below the minimum reading proficiency levels in 2020.
The issue is of great relevance even today as the pandemic is far from over and with the emerging Omicron variant,countries have been urged to take strict measures such as lockdown and school closures which consequently places online learning as the only immediate solution. This brings digital divide to the limelight with nearly one-third of students around the globe unable to access it.
The children from low-income families are the most vulnerable to this issue,as they can't afford the expensive devices needed to continue with their learning,so it puts them far behind their peers. As Figure 1 shows,a recent survey conducted in Chennai India (in 2021),showed that children from high socio economic status households had higher rates of access to smartphones, internet, and computers/laptops than children from low-SES households.These results suggest the need for policymakers to support access to regular learning opportunities at home for children from low-SES households and in government schools.
This relates to goal 10 aiming to reduce inequalities,as many girls (mostly from rural backgrounds) are at risk of facing increased sexual exploitation, gender-based violence,forced marriage and adolescent pregnancy since they are stuck at home. This explains why girls are twice as likely as boys to drop out from online school.
However, some argue that although remote learning has been a threat,children from urban areas have come out of their way to help their friends by sharing their resources in order to create a more equal access to education.Online learning also keeps students and their loved ones safe from coming in contact with COVID-19.
But,school closures have brought a major disruption in the lives of children and youth, affecting their socio-emotional development, as well as their social life and relationships. As two-thirds of the world's student population is still affected by full or partial school closures, their mental health is being affected.If governments continue failing to ensure that poor students have access to online education,then many children will fall behind and the country will have to pay the price later on with less opportunities for the younger population,lower growth rates and more social challenges down the road.
The future's looking grim as the UN department of economic and social affairs predicts that slow progress in school completion is likely to get worse. 24 million children are at risk of dropping out.One solution might be to have a channel on the TV that follows the same school curriculum,(just having all the main lessons), to make it accessible to poorer children,as they can share the screen or even go to another house and share their TV screen.Governments should focus more on bottom-up decision making,as the poorest are most threatened by school closures,so all measures should be made to support their needs.Lastly,increasing the pace of vaccinations for students means that normal school can resume,allowing disadvantages students to catch up with assignments they may have missed, also reducing their stress and giving them a renewed access to education.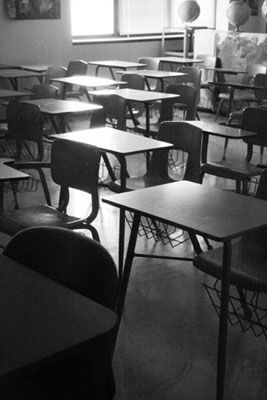 © Sean C., Princeton, IL