Between the Lines
March 25, 2012
I was born into this world, born into this time, born into a world on the brink of chaos, and born into a time when leaders must step up. I have lived my 19 years of life quietly, accepting things as the way they are, but today, I have come to realize that our world will need a new breed of leaders, and that these leaders must step up now, in order to gain the support and influence they need to help control our future. I must become one of those leaders; I am a truly gifted person, even among those of us who are destined to become tomorrow's leaders. I see things that others are blind to, I feel things which others will never, I know things that others cant conceive of, I am aware of things that others cant even register; I understand what other cannot begin to comprehend.

Our world, our time, is slowly spiraling into chaos, and I was content to watch it happen, but I can no longer do so reactions and events have led me into action, I must now step up as a leader, because not only is my direct world involved, but the entire world has become closer to chaos. In the last few years, all around the world, things have begun to shift, morals and beliefs are changing, taking a trip that will ultimately lead to chaos and destruction; true success had fallen to few people, and among those, even less have achieved it without cheating or ruining others.

The problem is not war, or death, or murder, but what lies between the lines, the things that aren't so obvious; the reasons behind why all of that has happened, and even then, the reasons behind the reasons. As a leader, it is my job to not only understand all that, but to become a part of the solution, inform those I lead of the solution, and do my best to ensure that the solution comes to pass. We are the problem, and we are the solution, we control ourselves, not the other way around, all that we do, was our choice, we choose to react, we choose to love, we choose to kill, we choose to become someone negative, we choose to be a part of the problem, we choose to be a part of the solution.

My future will be unimaginably difficult, because I am choosing to follow a path that very few people have the strength to, and this path is hidden from others, so well that even when they see it, they'll still be blind to it. I will teach each and every one of my people to take away the blindfold that impairs there vision, not in the physical sense, but in the sense of understanding, and acceptance that comes with time and wisdom. I must become a great teacher, because in a failing world people need someone to look up to and learn from, they need someone who inspires hope and teaches them a new life, a new way to live.

I see myself being a part of the solution, a man who sees and understands what the future can hold, and who desires to do his best to change that world into a place were wounds are actually beginning to heal, to scar over, before its to late. I can perceive the overall direction that life is taking, and desire to change that direction into a more positive and influential world.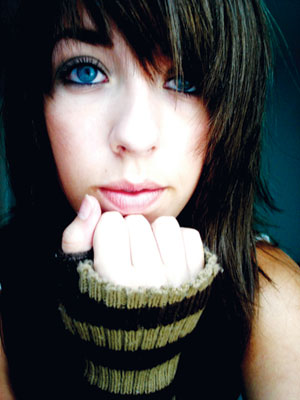 © Brit H., Peabody, MA