Interview with Teenage Fantasy Author Denika Mead
November 29, 2020
What makes a good fantasy book? A strong heroine? Fearsome dragons? A mystical story world? Well, fantasy author Denika Mead has all this and more in her Royal Orchid series, about 14-year-old Ivy, in the fictional lands of Ghost Orchid. She has published the first book along with a prequel, and the second book will be coming out soon. What's more, this published author of three books is only 16 years old! Check out her website here: denikameadauthor.com/
In this interview, I talk with Denika Mead about her story, her writing process and life as a teenage student-author during Covid-19
What first inspired you to create the fictional world of Ghost Orchid?
The story came to me when I was looking at my penguin bookmark. I began to imagine what kind of world could be inside and the people and creatures who would live in this land. The story evolved from there.

In the Royal Orchid series, there are many intriguing and unique characters. Do you have a personal favourite? If so, who and why?
It's really hard to choose, but I always like villains in stories so one of my favourites would have to be the magician, Felix.
I also like Leor. He's very caring but has some buried secrets.

What is life like for an author during COVID-19? What has changed, and what has stayed the same?
Because of Covid-19, I have had a lot more time to write which I have enjoyed. However, many of the local markets that I regularly attend to sell my books have been cancelled which has changed the way I have been promoting the series. The Royal Orchid prequel, Into the Flames, was released in April 2020 which coincided with our national lockdown. This meant the book launch needed to be online. The options for buying my books online have also increased.

What is your writing process for your books like? Are you a plotter or a pantser?
I think I'm somewhere in the middle. I plot the majority of the novel and once I have an overall idea of the direction of the story, I start writing. If I get stuck, I go back to plotting and work through that particular point.
Being an author of three books and a 16-year-old secondary school student "occasionally contemplating NCEA school assessments", you must have an incredibly busy life. How do you find time on a typical day to write, and how do you strike a balance between school and writing?
I mostly write first thing in the morning when I wake up. This is when I am the most productive. There are logical times when it makes sense to take a break from writing and fit in some more school work. For example, when I send my manuscript to the editor or proof-reader, it makes sense to put it down for a bit. I wouldn't say it's very balanced; I try to make sure the writing outweighs the school work.
What authors or books have the greatest influence on your writing? What are you currently reading right now?
I love fantasy and dystopian novels. Like a lot of people, growing up, I loved Harry Potter. I also adored the Wings of Fire series by Tui T. Sutherland.
More recently, I've been immersed in several book series, including His Dark Materials, The Hunger Games, The Inheritance Cycle, The Way of Kings and the Children of the Furnace series, by New Zealand author, Brin Murray.

What can readers expect from this book? No spoilers!
They are coming of age stories with strong female characters, dragons, an undead
army and a lurking magician. Readers can expect plenty of action and suspense. They are fast-paced stories with a focus on finding where you belong.
If you were to describe your novel in three words, which words would you use?
Exciting, action, and adventure.

What are you working on next? Could you share any details with readers?
Right now, I am working on the next book in the Royal Orchid series, The Ghost Warriors, which continues Ivy's adventures a year after The Death-Hunters. The manuscript is currently with the proof-reader and it is on track to be released this November. I am also in the early stages of writing a new series and developing the final book in the Royal Orchid series.

Finally, what advice do you have for aspiring young writers like you?
Some advice I would give is to read and share your work with friends and family. Asking for feedback from others is a really good way to improve your writing.
Look out for writing competitions you can submit to. Different competitions can challenge your writing and it is also helpful having a deadline to work towards.
But most importantly, don't give up. Believe in yourself and the story you are writing.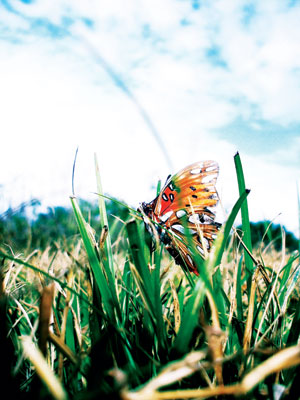 © Ashley B., North Port, FL