The Similarities between the Great Depression and the Current Recession
May 11, 2009
On October 29, 1929, America had what is now known as 'Black Thursday'. Black Thursday was when the stock market crashed. After black Thursday, America's economy that was already having trouble, started getting worse and worse. People couldn't pay their loans from banks, people were losing their jobs, losing their homes and many people couldn't provide for their families.

During the beginning of the Great Depression, and during the aftermath of Black Thursday, President Herbert Hoover tried to reassure America that the economy was stable. But the American people didn't agree.

In the 1932 Presidential Election, Herbert Hoover was defeated, and Franklin D. Roosevelt was elected by a landslide. After his election, people felt a new feeling of hope and confidence in the country. Similar to President Obama's Election.

On March 4, 1933, thousands of Americans descended to the Nation's capital to watch their new President's inauguration ceremony. After his inauguration speech, people had real confidence that things were going to get better.

Shortly after President Roosevelt took office, He developed a new economic plan to end the Depression, The New Deal. Slowly, the New Deal started creating more jobs, and the Economy began to recover. By the end of the 1930's the United States was out of the Depression.

There are many similarities between the Great Depression and the Recession we are in now. At the beginning of this recession, Our Stock Market, the 'DOW', began having out of control days. One day it even fell 600 points. It was northing like Black Thursday, but it made Americans become very worried. After that, more Americans began losing their jobs, houses were getting foreclosed and a lot of Americans began having to worry about how to provide for their families. Throughout this, President Bush tried to reassure Americans that the economy was stable, but many Americans didn't agree. Similar to the Great Depression.

On January 20, 2009, when Barack Obama was inaugurated, Americans once again felt that same hope and optimism. Shortly after taking office, on February 17, 09, President Obama signed his Economic Stimulus Package into law.

Many of the things that happened during the Depression, happened to us during this recession, but during the Depression, things were a lot worse. The New Deal worked for America back then, and hopefully the Stimulus Package will work now.

We are not out of the Recession yet, but many polls are starting to show that many Americans believe that we are beginning to come out of the Recession.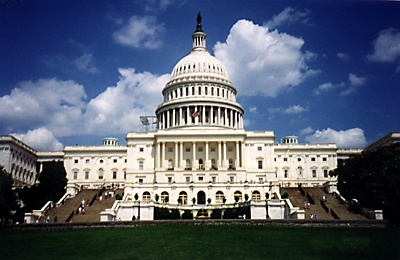 © Lydsay B., E. Sandwich, MA