TOKYO
September 22, 2018
Have you ever have seen a place, a place that can always catch your attention. And no matter how much time you go to that place, you will never find it boring? Well, Tokyo is this kind of place for me, and I will tell you why.
Tokyo is a caring country. It is the only country that has airports where the luggages will be pulled down from the luggage belt by workers and lined up in colours, so all the passengers can get their luggage without pulling and tugging and using a lot a energy. It's a huge benefit to those who have physical issues or don't have a lot of strength. Tokyo is also a country who has hot seats on the subway. Even in the winter, me and my family can feel the warmth coming from the Tokyo citizens.

Tokyo is a neat and organized country. Even at the most deserted place, their washrooms are shiny and seem brand new. The mirrors doesn't have a single dust speck on them. At these washrooms, even at my worst temper, I will feel happy and relax. Tokyo is also known as the most subway lines. But however, because of Tokyo's citizen's organize method, the subways will never bump together. And passengers will never get lost, because the signs are clear and wrote in all different languages. So, don't worry, just ride with the wind!

Of course, one of the best reason I like Tokyo is because all of its funs. Namely, cartoons, stationaries, so on. Everywhere, you can see catchy doll-catchers, and fun posters. My favourite character is Totoro, that little grey mouse made by the most famous and most imaginative cartoonist Hayao Miyazaki. Can't you just love how even the grown ups at Tokyo are willing to play like children?
The stationaries are really cool too. They are not fancy, not even cute. But however, they represent simple beauty.
My favourite pen is a wine red, smooth pen. It has a tiny label that says " Great Day". A single golden line twirls and circles the pen's body, like a great dragon. The pen is not just beautiful, but also powerful. It can write delicate words, and very great to hold.
Just like this pen, Tokyo is a city that's not just beautiful on the outside with skyscrapers and cartoony walls. But also because of the smart objects and caring attitude. I will always love this pen, hold it in my palm, just like how I always love Tokyo.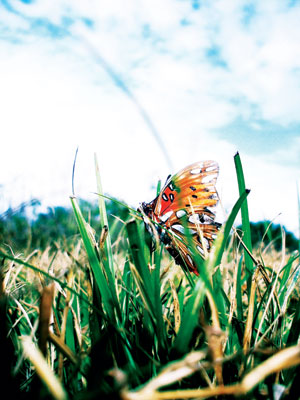 © Ashley B., North Port, FL