Midnight
May 13, 2018
I have always felt this peculiar thing about midnights.There is something  the darkness , the calm silence , infact in the air as such that more often than not has similar effect on us to what a truth serum would have on pinocchio.
Perhaps that is why 2am conversations tend to be so candid.The midnight air has the same intoxication effect that a glass of sultry wine would have on one.Deep emotions , true feelings , desires and your worst fears haunting you often find their way out of our boxed minds through your mouth and if lucky , straight into a listener`s heart.
I have seldom had people to talk to at such ungoodly hour of the day until a special day when a special person decided to know 'how my day was' each day religiously.Talking to him calms my mind down , makes me giggle , smile and most importantly solves all my problem.My tendency of playing a perpetual game of  hide and seek with problems has finally surpassed me . Thanks to the perfect potion of him and the midnight breeze.
Midnights have the potential to change  your life.Yeah , one late June midnight changed mine.
So if you want to propose the love of your life , choose midnight to pop the question.If you want really to know someone ask them out on a few midnight dates and you will see the magic unfold.And if you want some serious talk on life choose midnight because who knows ;
At some smoky 12am of winters
Or on a windy one of summers 
You may find the meaning of life
Or someone to add meaning to it
But if you are lucky enought and true,
You may even suddenly
Bump into you !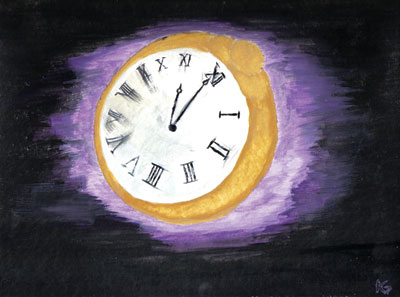 © Kyle G., Clarksville, TN