Save it for the Big Leagues
July 12, 2009
These fears have happend more than once, and i assure myself everything is okay. It's not like it wouldn't be my fault aswell, No means No as people do say. What if I don't want to say no though. That makes me the bad guy right?
We've been dating almost a year now, and have been doing this for quite a while, yet sometimes in my gut i feel like where pushing our luck.
I have had missed periods way too much, but they always do come late, though i know that one day I'll think it's fine and dandy, then have it turn out it will never come, then anxiety rushes through my head and i don't know what will be done.
Sure my mom will still love me, but sometimes I am scared he won't,
and then what am I suppose to with school and all my friends, would they still be there too?
No wonder why parents say wait till you're ready, because I've come to find I am far from it, but my boyfriend is much older, and I don't know if he will understand, nor do I really want to tell him no.
Also, I am not ready to take care of a kid, I don't even have a job. Knowing that a human can grow inside me at this time really scares me.
I wish I waited like my mom told me to, sure temptation would be here, but its getting worse and worse with all these fears that a kid might someday be near.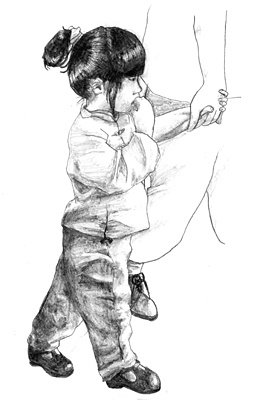 © Laura K., Kendall Park, NJ