Over a Text
MAG
September 3, 2015
It all seems so much nicer on the other side. The other side of this wall, of this notion, of all the emotions pouring out of every pore in my body hoping to get to yours in some way. But I never do; nothing I say matters once you've made up your mind. Clearly you don't want this relationship anymore, so tell me, out loud, in person. I thought we were decent to each other. Maybe that's my problem. But there were no lazy hours spent in each other's arms. Just an awkward silence and the feeling that I should leave. To you I was a conquest, and once it was completed you moved on emotionally.
You waited to see if something I did caught your interest, but nothing ever did so you moved on. And instead of explaining things face to face like a decent person would, you texted. And in this deep dissonance between what is acceptable with communication and what's easiest, you told me everything I needed to know. You told me how little I meant to you, how everything I did, everything I told you in confidence, everything I spent – emotionally and capitally – was in vain. Sure, some things are easier done over the phone, e-mail, fax, whatever technology you're comfortable with, but ending a relationship is not one of them.
Because you can't break a person's heart over the phone. You deserve to see every inch of that person's resolve crumbling beneath your feet. You owe it to them to see all the tears, emotions, longing in their eyes. You should hear their voice, trembling with self-loathing, self-doubt, asking why. You deserve to know what's happening behind that phone, behind that computer screen, in the afterglow, when the lights dim, the camera cuts, and everybody goes home. You're standing in the dark, and you say your lines one more time in hopes that something will change, that you'll convey a lost emotion or say something that will turn the situation around.
If you're going to love somebody, you have a duty to see it through until the end. Not the end of a text conversation. The end of it in person. And if you can still walk away knowing what you've done, then you deserve to move on.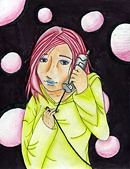 © Emily M., Milford, CT