Why I Believe
May 25, 2015
This is in response to a dear friend, whose amazing work I have come to consider a masterpiece. He has been dealing with an incredible issue that, in my heart, pains me more than the stabbing of a knife: A lack of faith. As I have read his manuscript, I cannot help but feel that the very reasons that he does not believe are the reasons that I, myself, do. Perhaps this is silly. Perhaps this is rambling. But I must know. I must explain who I am. Most of all, I must help my friend through his pain because that's what friends do. In order to do this, I must reveal my scars, or more, cut them open again and feel the pains of the wounds that are already there and will never leave my heart. Believing in a God will never change that, but it will help relieve the agony of my soul, of which I have a great deal. To continue, my friend, I hope this letter finds you. It is your letter, do with it as you please. maybe accept it, maybe not. May God be your strength.
                                                                      -------
I am born. A little girl, squalling in a nursery just like other ones. But I am different. unlike some of these children, I will know pain before I even know myself. I will know who my family is before I recognize the strengths and weakness to which I abide. I am not an immortal, but I will connect to One who is just as I connected to my mother's womb seconds before. And like the uterus and umbilical cord, this connection will nourish me, feed me, carry me on into my life until I reach the next one. Perhaps God liked to demonstrate through the works of a little babe before it reached the crib. I have found Him in the many metaphors in my life.
                                                                      -------
It is a shot that starts my early childhood. Not a toy, not a shark, not a pet, but a shot sending through my father's brains. He is laying in a pool of blood in another state while I, his babe, still wail in the crib. I am just a year old, and already I am fatherless. I have no one to guide me, no masculine arms to tell me that I am safe, no strong man to carry me down the aisle. In that regard, I am alone. In that moment, before I knew the ways to describe it, before my tongue could loosen itself into words, I believe that I prayed more than even an adulthood could last...
                                                                     ---------
It is the shot that starts my childhood, but a wedding that restores it. A wedding with purple dresses for a toddling me of two, and a new sister whom I know to be six. She is so beautiful and someday I want to be just like her. I also want to be like the person beside my mommy. Daddy. The man who is going to change my life, the one who is going to show me everything in carpentry and masculinity. I am more excited than any child is or could be, and not just about the wedding cake. I am two, but already I have a second chance in life. How could anything else but a God restore that to me?
                                                                      -----------
I grow on and develop, becoming a little lady. I still love dresses and tea parties, cats and ponies, being with my big sister and brother. They are my life. Them and my parents and grandparents, aunts, uncles, and cousins. I am happy. Even on the day where I am no longer the littlest and a package of fleshy, pink skin takes my place I am happy. The night my brother was born, I slept as much as mother did with all her pushing and heaving and being cut up for the C-section. I was bouncing around, too excited for sleep. God created a little miracle in my life, and I had watched him grow from a lump to a dinosaur to a human. And now he was finally here! Oh, why did God's miracle take even longer? But when I saw his face, held his hand, held his whole body in mine, I knew: It was worth it.
                                                                     ------------
I am eleven. Years have passed, and I am still happy. At least, until today. I can't believe it. Years of love, turned into deceit, betrayal, and adequateness. Today, I am not enough for my big brother and sister. They are leaving to stay with their mother. To be under her more permanent care. I could hardly handle sharing them with her every other week, but now I have to give them to her full-time? Why? How could every other weekend be enough to fill the gap of time that we had been separated? How is this fair? How could God take something from me like that? How could He take my miracle and give it to another person? Because it isn't my miracle. It is His.
                                                                      -----------
I am in a hospital gown laying in a bed that is not my own. The surgery was successful, the tumor debulked. I am fifteen now, but I feel like an old lady as I think back on the events leading up to this moment. All the support from my friends, family, youth group, and church. Even that morning, my youth pastor led my group of 20+ people, along with some doctors and nurses, in prayer. Just in the middle of a surgery prep room. Seeing all these people in a circle like that, just because they cared about me... Maybe this situation wasn't ideal, but I don't think that I could ask for anything better.
                                                                     ------------
I am sixteen now, and am still pondering my past, while also looking forward to the road ahead. The tumor is causing more problems, but this time I know that God will be faithful. In the past few months, science has let me down. It has taken away some of my vision permanently, giving me dizzy spells in the middle of the school day, countless blood tests that were almost for nothing... And yet every time God has given something back in return. The vision will never be totally lost. The dizzy spells have never led to fainting, the blood tests have finally provided some good results, and a chance for other options. In one month, I will be leaving for a new hospital with possibly new ideas on how to treat my issue. I don't know where the next road leads, but I do now that God has His hands on the wheel. And right now, that's all I can ask for.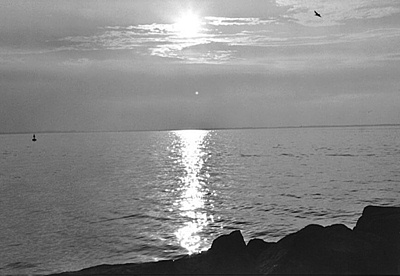 © Amanda L., Cumberland, MD