Books: Then and Now
MAG
Pink laced dress. Dainty little feet inshiny black Mary Janes skip on granite floor.

"Waithere."

"Mommy, where are yougoing?"

"I need to return these books. I'll beright back."

I wander around, nothing is familiar. Polishedoak bookshelves tower in unwavering columns, much like a line ofsoldiers marching in a parade. On these shelves, slabs of black wood arestacked at intervals. Standing on these are books. Thousands of them.They surround me. Each one stands neatly, together, in unison. Everybookshelf is laden from end to end.

My fingers sweep curiouslyalong the spines with engraved golden letters, trying to feel what is onthe pages, trying to understand what they say and mean.

At last,I find the courage to open one. Gently, for fear I will disturb itspages. Slowly, for something frightening may appear. My hands embracethe maroon cloth and words emerge.

It settles comfortably in mypalms. Breathe in; I smell the scent of attic, the whiff of dust, thefragrance of time mixed with paper. These pages are worn, wrinkled,yellowed. The letters are still dark and bold, not faded like the restof the page, still leaving an impact.

I spot familiar letters andnotice familiar symbols, the dots clinging to ends of words, earshugging their sides. I try to sound out a word. My lips close intogether, whispering a "whhh" sound. I proceed to the nextletter, this obscure arrangement of lines, a short ladder.

As Ilift my head, my eyes gaze at them, seeing them all sitting therepatiently, longing to be explored, yearning to be revived and relived.

Gently, I place my palms together to a close. A hollow thudcompletes my visit.


* * *
Twelve years later I return, thistime with my five-year-old-brother. We check out the usual: Green Eggsand Ham, Arthur, and Goodnight, Moon. But today, I decide to challengehim with Cam Jansen and the Catnapping Mystery - it's 64 pages,his first picture book.
That night, after he reads Green Eggs andHam with little struggle, I encourage him to move on to CamJansen.
He squints at the purple cover. "Cam Jauuuoostinand the cat-ner-ton?" He giggles. "Ha! That is a funny word.Catnerton!"
"Actually, try to sound it outagain," I suggest.
"Cat-ahhhn-pering?" his eyesask for approval.
"Try again"
"Cat-nap-aring?" He lets out a yawn, while hiseyelids flutter.
"We'll continue tomorrow," Itell him. "Good night."
"Good night," hemurmurs.
* * *
Children are the best listeners to stories.They envision themselves as the characters, scribbling sketches ofthemselves fighting fire-blowing dragons with their 128-pack ofCrayolas, dressing up in Mom's most sparkling heels, imagining thecardboard box made of gingerbread and trimmed with licorice andgumdrops. They dream, dream while they sleep and dream while they wake.Dream, dream of fighting adversity, dream. Dream ofstories.
* * *
Fresh lemon-polished bookshelves invite meback. They welcome me, all of them: Ramona, Charlotte, Peter, and Henry.After being shelved for so long, they invite me to return to KlickitatStreet, the farm, London, the train. I open the maroon cover,anticipating joining Sara Crewe for the umpteenth time. I smell India,the dusty wind, musk mixed with sandstone, the elephants splashingthemselves in cool water, the scent of plumerias after a summer rain.Hour later, I'm in London, sweeping coal from the chimneys, mynose full of ash, avoiding the oh-so-terrible Miss Minchin. Three hourslater, I finish.
I say good-bye and place the book back on theshelf. My fingers drift across its spine. "Rest well, I will visitagain soon," I whisper. I walk away, glancing at the books behindme. To me, they are a series of yesterdays; to someone else, they are aworld of tomorrows.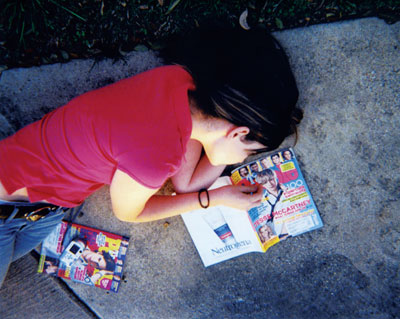 © Anonymous