The Doctor
October 5, 2014
The word scared is the near truth to describe the feelings I feel. Maybe this is all just a dream, no nightmare. I have lived a great life, always tried my best, but I never thought my life would end so short. To say I was terrified would be an understatement. To say I could die of fear, is close to being an overstatement.

I feel warm tears drip down my cheeks onto my lap. I try and focus on anything but my impending death. I stare at the small screen hanging from the yellow wall, high enough so a child couldn't reach it and smudge the delicate screen. I focus on the current movie, 'A Bugs Life'. It's difficult to see because of the glare the window leaves on the screen. Oh, how I wish to join the blue ants as they defeat the grasshoppers! Sadly I can not. I must stay here and await my turn to become the doctors next victim. The pure innocent child who was here with her mother looks at me with curious eyes, her head tilting ever so slightly to the left. I try and muster a smile but its pointless. Instead I copy the small childs actions and tilt my head as well examining the poorly dressed two year old. My eyes traced her delicate image from the pink flowered headband in her thin brown hair, down her pink shirt and to her purple tennis shoes. Why must two year olds always have purple about them?
"Are you ok?" My mother asks in a soothing tone. I look at her wondering the same thing myself. I, as I always seem to do, over evaluate the question and think to myself am I ok? Why me? What have I done to deserve…
"Sarita?"

I turn my face away from my Mom and look at the tall blond haired lady. She must be the nurse if she knows my name, or so I hope. She seems nice and welcoming, being old in age. I look into her pale blue eyes and find them comforting once I look past the blue sea of pity. Why is it that whenever I come in holding my stomach I always get the same look and treatment, it isn't because the nurses try and be nice, it's because they pity me. They think I can't see behind their masks and fake smiles but I can.

I wipe away my tears and slowly stand. I wince in pain as I bend to get out of the seat, the pain shooting through my body like a shot of electricity as I attempt to move. I follow her slowly into a small room with a frisbee resting on the examination table. I feel my heart begin to race as the time draws nearer to the moment 'he' arrives. She weighs me and takes my temperature, she looks at the thermometer curiously, as if she made a mistake. She shakes it off and writes it down. I see her scribble in hand writing similar to chicken scratch down on the small post-it note sized paper. I faintly make out two nines. 99?!? I begin to panic, I wipe away the beads of sweat lining upon my forehead. Why did I have to wear sweats?. She smiles a fake smiling with a look of pity on her face at me and says she is off to fetch the doctor. I give a slow nod as she walks out of the room.
I look at the ceiling, pretending all of the small specks on the ceiling are stars. I imagine the night sky is above me, with thousands of lights gleaming down on me. After a few moments I can see it, the night sky with hundreds of thousands of stars shining down on me. I see constellations such as Ursa Major and Ursa Minor, Oryan. I close my eyes and imagine myself up there amongst the stars flying through space and time, to a play where there is no pain.

I am rudely woken up from my vivid daydream by the creak of the door.. The world seems to stop in front of my eyes. He enters the room swiftly and soundly such as a mouse does when he prays for cheese, but I am not cheese, and he is not a mouse. My heart races, it's beating so loud it seems to drown out the sound of the door clicking shut. I glance at him, and for a moment he frightens me, his pale lifeless blue eyes seem to pierce through me and into my soul. I almost forget my mother was in the room with me. She speaks to him with a soft smile, but I can not comprehend what they say. The words are drowned out by my heart. He looks at me, with the same pity look the nurse gave me.
"Could you lay down please?" He asks with pity stricken written all over his face.
My body obeys his simple command and lays down on the surface, paper crinkles underneath my small frame. He begins to push on my side with his surprisingly warm hands. I whimper in pain as he applies pressure to the sensitive area. A single tear runs down my face and splashes onto the paper. He remains motionless for a moment. but only a moment.
This is it, the news I have been waiting for. I see my life flash before my eyes. I can see the first time I jumped off a diving board. I can smell the sweet smell of freshly baked cookies. I can hear my sister whistling to her dog. I close my eyes slowly and instead of seeing black I see images race across the back of my eye lids. Is this what dying feels like? Am I leaving the earth so suddenly? I open my eyes and await the news and if it is death, I welcome it with open arms.

"All you need is some rest, try not to move around too much and I want to see you tomorrow to make sure you're alright" He says with a genuine smile.

My eyes seem to pop out of my head. I remain still and slightly pinch myself to make sure that I wasn't daydreaming as I often do. My lips form a meek smile and a single tear slowly slides down my face splashing onto the paper's surface, creating a single discolored dot.

"Thank you" I say barely choking out the words.

After I say them my mouth grows dry. My Mother and the doctor begin to converse and I remain unwavering. I feel the smile slowly creep onto my face. I over reacted dramatically.

I think of how silly and odd I became thinking I could die from such a thing. I realize life is too short and we should live everyday to the fullest and the utmost joy. Yes there is a chance we could die everyday, but we shouldn't let it stop us from enjoying our lives. Life is a precious thing and it shouldn't be wasted, but it also shouldn't be spent in misery. If life can be made and ended in an instant then there truly is nothing we should limit ourselves to, whether it's skydiving or race car driving, if that's what makes us happy we should do it, cause it could all end in a flash. But we shouldn't dwell on the inevitable but only on the ones or things that make us happy.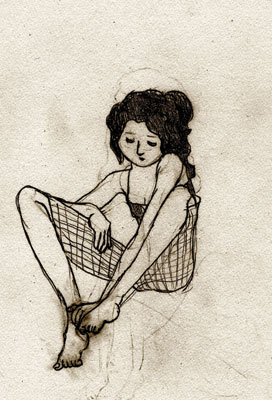 © Samantha W., Albany, NY