Going Back To 2008: The Hollister Trend
September 16, 2014
I was never one to fit in a crowd. I mean, I didn't go out of my way to stick out like a sore thumb, but it was the little things. The minute differences such as my refusal to participate in the Hollister trend, that set me apart from others. When I moved from Massachusetts to New Hampshire in the 5th grade, almost all of the girls and even some of the guys in my class were wearing Hollister shirts. Want to know what my first impression of these shirts were? Yawwwwwn Fest!!!

I couldn't understand how these mundane sheets of cloth, which only had the words "Hollister" slapped on could be so popular. You'd sometimes get lucky and get one with the brand's signature bird as an addition, but most of the time, you weren't. These shirts were a sensation! It was consumerism at its peak! I was seeing Hollister carbon copies everywhere and suddenly, unfashionable became the hottest new trend.

Despite my original skepticism, I was still the ten year old new girl in town and was determined to fit in. So therefore, I dragged my parents to our local mall to transform myself from a "What's Not to Wear" girl into a hip and trendy pre-teen. When we first walked into the store, we were greeted by a picture of a hunky man's broad chest. Hello, nice to meet you too! It was almost as though that picture was saying, "If you shop here, we guarantee that you'll be able to find yourself an Arnold Schwarzenegger Jr!" Then, as we turned left, we walked into a dimly lit room where our noses were blasted with incense. Sexy vibes? Maybe to some, but honestly, the perfume was just giving me an allergic reaction. However, I still picked out my supposedly perfect, hot fuchsia pink Hollister t-shirt and was totally stoked to wear it at school the next day.

When I first wore that Hollister shirt, I felt so powerful, like I could be anybody; maybe even one of the popular girls! After all, one of the cool, probably most Hollister obsessed girl in our school, complimented on my shirt; how could I not be happy? For a few weeks, I wore that shirt pretty much every other day, feeling like I was going to find social heaven. I probably would have worn that shirt seven days a week if I didn't have to wash it! I did this for about a month. However, it was my frugal instincts that reminded me of why I didn't want to shop there in the first place.

One day when I was selling Girl Scout cookies, I noticed that my belt was digging into my brand spanking new Hollister shirt. After I moved it, I saw a very distinctive hole. This made me pause. How could this piece of clothing, which I bought just a little bit over a month ago, have a hole in it already? How cheaply was this made? Was it made out of banana peels or something? Who knows? Suddenly, it then hit me! This shirt that my parents just spent money on was boring, thinly made, and definitely not worth its price tag.

After that happened, I threw the shirt in the garbage and went back to wearing my neon bright, denim infested outfits again. I never was by eleven year old standards, fashionable, but to be honest, I really didn't care anymore. I was just glad to have my clothing sanity back! After all, life is too short not be a little weird, right?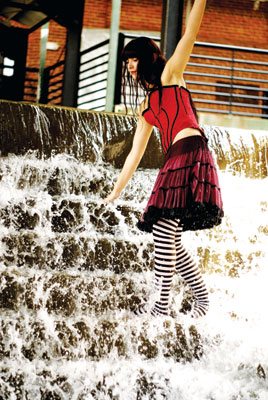 © Daniel H., Durham, NC