A Real Headache
January 9, 2013
In my family, I am the only one that has problems. I'm the one who has broken 11 bones, had 6 concussions, and 2 surgeries but that is nothing compared to my migraines. A migraine is a type of headache marked by sever head pain lasting several hours or more. Luckily, there are just a "few" causes: stress, lack of sleep, too much sleep, dietary habits, odors, caffeine products, and exhaustion. Thankfully, I have preventative medicines that work 100% of the time---not!

Sunday night, before dinner, I started to feel awful. I felt a little dizzy, my vision was beginning to blur and I was also losing some control of my small motor skills. Realizing the signs of my migraine, I took some Frova (one of my prescriptions). After taking my medicine, I had lost my appetite, so I decided to turn in early. I took my Amitryptlyn (another prescription) and attempted to go to sleep. I lay in my bed and as the night went on the pain got worse. I felt so weak, I wanted to get up and tell my dad to take me to the Emergency Room but I physically couldn't. So I continued to lie in my bed with the feeling that my head was going to explode at any moment.

Later, I heard a faint noise, it was my alarm for school.
"What on earth" I thought, "my volume sucks." Then I checked my volume and it said loud. My migraine worsened because of the brightness of my phone. Then I felt sick, if I got up as quickly as I could and went to the bathroom. ---Up chuck--- After throwing my guts up, my head was pounding and every time I moved it made it worse. Shaking, and dizzy I found my way to my Dad's room.
"Dad, I'm not going to school" I proclaimed.
"Why?" then he looked at me "you look like hell."
"Gee, thanks" I paused, so I could sit on the floor "So I threw up, I can't really see, and my head feels like it's going to explode." He shook his head and grabbed his wallet and keys, "to the ER we go."

After an hour of crying and waiting, I was given 2 shots (morphine and adavan) and was sent home. Once I got home, my dad and older sister helped me to my bed. Before I fell asleep, my older sister, Kayla said "Wow, your Monday's really do suck."
"Yeah, they're a real headache," I whispered.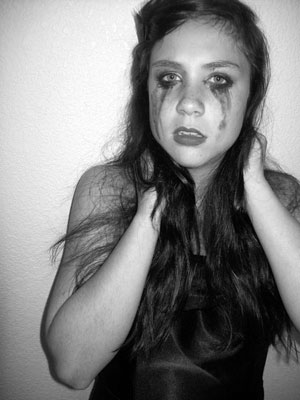 © Tiana D., Monument, CO