Social Problems
November 23, 2012
Adidas Sambas: soft suede leather, wide flat laces, ruffled tongues. Social Problems in my life may be a college course or a statement, depending on who's asking. Three white stripes identify my shoes. Today we discussed class structure, class consciousness, class ignorance. Status symbols. The lecture didn't cover my shoes, but it should have. In sociology, as in life, my shoes speak to me. They speak to others. They console me.

Thick gum rubber, gentle stitching—how long since inception in the hands of a child? He must have known. Class Awareness, my textbook says.

He knew and he hoped and he wished and he prayed and he dreamed and nothing happened. All the while, he sewed the stripes, three on each side, twelve in total. Careful stitches, sure to please.

Twelve white stripes on my feet. Classy. Well-made. Kudos to the maker. Kudos to the seller.

So, you wanted to talk? I can see we have similar tastes. And—what's that? You study sociology as well? Fantastic. I'll meet you in Starbucks.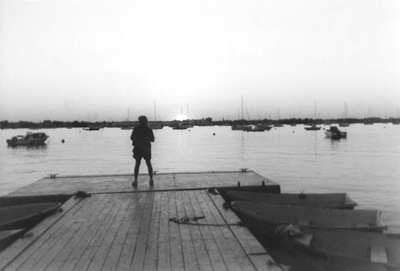 © Lindsey D., Marblehead, MA