The Meaning of Death.
May 31, 2012
Death. A simple word with a dark meaning. When I was younger I did not fully understand it. When the family pet dog, jumped over the fence that hot July day, and was struck by that chipped green painted car. My parents told me he was gone to a better place. They never used the word death in front of me.

On Sundays the preacher would talk about going to heaven when we pass, if we were saved. He never used the word death in front of me either.

I did not fully understand the concept of death, until I was 7. It was November and my grandpa had been sick for a very long time. He laid in a hospital bed in the living room of that trailer. Every day I would come home from school and walk down towards his trailer, which was not that far from our house. He was the reason we moved to this old house on the hill. My parents told me when I was in kindergarten he was sick and needed us closer by. So we packed up and moved, it had been 2 years and he only got worse.

One evening it was cold and windy, the leaves seemed to be a perfect crisp, so when you stepped on them it made an extra crunchy sound. My mom came and picked up me and my two older sisters from school. She told me that if we had anything we wanted to tell grandpa we needed to do so that evening. I did not understand, my oldest sister broke down in tears. I sat quietly in the back seat wondering what was going on.

We arrived home where he laid there with a breathing tube in his nose, he kept taking heavy breathes and coughing. I stood there afraid to go near his bedside. My dad nudged me to go forward, my grandpa reached his shaky, weak hand out laughed a little, coughed, and said it was okay. I hugged him and said I loved him then I left the room. My oldest sister was so attached to him she cried the whole time.

Death. He died that day, peacefully they said in his sleep. When I went to his funeral I didn't quite understand it. Everyone was crying my mother told me he was gone he was in heaven with God and his parents. He is no longer in pain.

Death. That following February was when I realized what the meaning of death was. My oldest sister Mandy, was born with spina-bifida. It is when your born with your spine open. She was paralyzed from the waist down so she was always in a wheel chair. Throughout that year she had been sick off and on. I didn't understand just how serious it was.

February 19, 2003: It was Wednesday, windy, chilly but sunny outside. I was 7 in second grade. My mom got me and my other older sister dressed for school. My two younger sisters were only 2 and 4 so they were going to the hospital with my parents to take Mandy. We drove up the hill to that old elementary school. As me and my sister piled out of the vehicle I turned around waved and said Good bye. Good bye my last words to her. The last time she would ever hear my voice.

Death. My uncle picked me up that evening from school. Not my parents. Unusual. But at 7 I did not think much of it. Later that evening close to 5, they arrived. My mom her eyes, red and puffy she looked as if she had been crying. I ran up towards them and asked eagerly where they had been, where was Mandy, why did my uncle pick us up? So many questions, no answers. She laid her hand on my back and motioned me towards the couch. She sat down beside me my other older sister on my other side my dad at the end holding my baby sister.

My mother swallowed. Stared at us, ran her hand through my hair, cleared her throat and said in the saddest voice possible, "Mandy is no longer with us." I watched as her eyes seemed to flood with tears. I heard my cousin start to cry. My aunt kept saying it was okay. I sat there not knowing what to do. As my mother explained what happened, I started to cry. But why? I didn't really understand what it meant.

Death. Funerals are the worse "celebrations" of ones life. Everyone dresses in black, and people show up and apologize for your loss. But why? Why do they apologize it is not there fault. They hug you and shake your hand, I never even met half these people before. She laid in the casket lifeless.

Death. Days past and we ate casseroles for every meal. So many casseroles, too many casseroles. Why? Why do people feel the need to fix casseroles for you? It had been 2 and 1/2 weeks since she died. My mother asked us if we was ready to go back to school. That morning was when it hit me. We was getting ready for school when for a second I forgot she was gone, I walked in the room and said Come on Mandy it is time for school. Then reality struck. I cried.

Death. Definition; the act of dying, ceased, termination of life, the state of being dead.

Death. But some people believe you don't really die after death, you merely live in another place. Heaven they call it. Or hell depends on the person I guess.

After she passed, my teachers kept asking how I was doing. I once looked up and asked How am I doing about what? She said your sisters passing. Never used the word death.

Death. I know the meaning, I know the feeling of loosing a loved one. Everyone eventually goes through it. So why do we still not use the word death? Why do we not ask how are you since your sisters death? Or simply say she is dead?

Death. Five letter word, one overall meaning, a word not used often. Why? It is a typical cycle of life. You live then you die.

Death.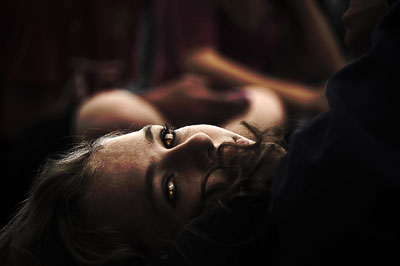 © Calvin C., Salt Lake City, UT