Extra Ranch
MAG
December 23, 2011
Friday nights, when most teenagers are partying, vegging out, or cramming for exams, I work at my father's family-owned Italian restaurant. I am a waitress for the elderly who migrate in herds at a leisurely pace. And for young couples on an uncomfortable first date. And for the middle-aged sports fans who come in for Coors Light and hot wings while they watch baseball or football on the big screen.

I approach each table wearing a baseball jersey, white apron, high ponytail, and plastered-on smile. "Is there anything else I can get you folks?" I ask after I bring them their appetizers. The answer is always, "Yes, can we have more ranch dressing?" Finish the one I just gave you first. Geez, so American – drowning everything in ranch. "Sure, I'll be right back!" I reply in my peppiest voice. Every time.

On my quest to get table 12 their ranch dressing, I dodge through the busy kitchen. "Runner!" the pizza-maker shouts. Table 12 will have to wait. I pick up the large pizza for table 43. The aromas of sautéed mushrooms and spicy pepperoni fill my senses. I once again navigate the kitchen traffic and enter the dining room.

I scan the room – is it this table? Nope. The booth in the back? Nope. Why on earth can't people put their number at the edge of their table? Oh, it's that one right in the middle of the room. How am I going to reach that picture-perfect blond family without tripping over Granny's cane? I play Frogger through the maze of customers until I finally reach table 43. I place the pizza on the tray and ask, "Is there anything else I can get you folks?"

The son grabs a slice of the pizza and the daughter looks around as if I had not said a word. The mother looks at her husband and nods. The father finally pipes up and says, "Yes, can we have some more ranch dressing?" I sigh. "Sure, I'll be right back!"

By that time, table 12 is flagging me down for their ranch dressing, and Granny at table 9 is asking where the kettle for tea is. I don't have the heart to tell her that we don't serve hot tea, so I go fetch the extra ranch.

Does everyone have a sufficient amount of ranch dressing? Is Granny all right? How many babies have spilled their parents' sodas? Is everything fine? Yes, everything is good. Now, back to the kitchen to bring out an appetizer.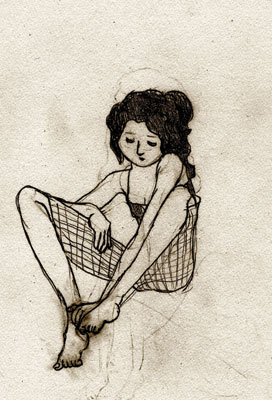 © Samantha W., Albany, NY