Ruh-Roh!!
November 25, 2011
We had finally reached the campground in South Carolina, where my uncle was going to be living and everyone was ready to get out of the truck to stretch their legs. My uncle was already there, waiting for us to get there with our camper, which he was going to use as his home for a few months. It took almost 30 minutes to park the camper and our three dogs were very ready to get out of the truck.

Lindsay was in the camper with my mother, my dad was showing my uncle the basic things he needed to know about taking care of a camper, and I had the task of getting the dogs out of the truck. Simple, right? That's what I thought but, boy was I wrong.

We have two beagles and a "mutt" that we refer to as the Dorkie (we think he's part Dachshund and part Yorkie). The Dorkie, Buddy, along with one of the beagles, Daisy, are relatively easy to handle, so I decided to get them out of the truck first. I put them on their leashes, told the other beagle, Brownie, to stay put and headed for the camper with Buddy and Daisy. As I was walking away I could hear Brownie barking her head off, so I was trying to hurry the other two along so I could get Brownie out of the vehicle, and she would be quiet. When I finally reached the camper, I had to coax Daisy into the camper and then I told my mom I was going to get Brownie.

I ran across the road to the truck and pulled the door handle. It was locked. I remember thinking "that's weird" and making my way to the other doors. Every door was locked. Then I realized that, BROWNIE HAD STEPPED ON THE LOCK BUTTON AND LOCKED ALL THE DOORS ON THE TRUCK!! I ran to tell my dad who I thought had the keys. To my horror, when I found him, he told me he had left his keys in the truck!! He told me to go ask my mother if there were any wire coat hangers left in the closet and, luckily, there were. I grabbed one and ran back out to the truck. My dad took the hanger and a screw driver and unlocked the door, thankfully, and Miss Brownie hasn't been left alone in a car since.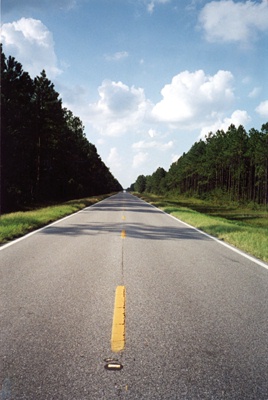 © Amanda M., Coventry, RI