Beautiful!
August 12, 2011
My grandmother had been on complete bed rest for two entire weeks in the middle of my college examinations. With nothing to do but to sit on my haunches over the books with a pencil in hand – the purpose of which was scratching my scalp every now and then rather than taking notes – I used to accompany my grandmother in her bedroom.

She was weak and her illness made her weaker; just looking at her gave me a pretty good idea about how it feels being caged in a tiny, delicate being. And there she was on the bed against mine although apparently weak, but internally strong and spiritually potent.

I, every four minutes, heard her cough softly and raised my head over her bed to check if she was okay. She would often ask for water and, most of the times, for her purple-and-pink hankie which usually lay on the side table beside the medicines.

June was on the brink of May when deadly summers had crept in and tickled my restless temper. Finding myself too exhausted-cum-frustrated to go on studying anymore, I silently winded up my work and crawled next to my grandmother's bed.

She was sleeping peacefully and I could easily catch the sound of her limpid breaths. I secretly enjoyed the rhythm of her up-and-down moving chest as she constantly inhaled and exhaled.

Her hair was uncombed and loosely tied into a bun. As the twilight filtered through the heavy maroon curtains, her hair reflected a silvery shine which appeared naturally enchanting. The ends of her hair danced with the slowly moving air and my eyes followed every step.

Her face, that used to appear round, had gradually materialized into an oblong. The flesh of her cheeks was vanishing with time but her cheekbones were still sculpted and beautifully accentuated.

Her wizened face was a testimony of her extreme life experiences. Every marked line told a story. The dark circles under her beady eyes recounted the grievances and joys she encountered throughout her life. Even her brows were a pretty mixture of smudgy black and gray, shadowing her eyes down the many wrinkles on her forehead.

Eyes, though tiny but alive, reflected hope and were still illuminated with a magical sparkle. Her nose was curved but pointed and lips taut with a vanishing pink. As for her teeth, they never showed even when smiling.

Her ears looked flaccid but she still wore the golden earrings in her gently dangling earlobes. Her hands were small, fingers even smaller. It all together symbolized the perfection she mastered and compliments she earned by the foods she cooked and great deeds she did.

But I could still see four glass bangles in her each wrist that chimed and soon died under the unusual, unpleasant noises in the surroundings.

She looked so tranquil, so at peace. A beautiful marvel all in herself. She's evergreen, I thought.

"You're beautiful", I whispered absentmindedly.

The next second, I was distracted by her another cough with which she opened her blue-gray eyes. A little surprised, she grinned with her lips pursed and uttered rather voicelessly, "hankie".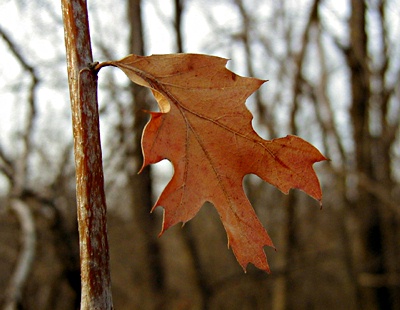 © Brad H., Lemont, IL