19th of March
May 14, 2011
I failed to know the amount of strength that comes with simply leaving. I had never done that before; just leave my house and tell absolutely no one my intentions for the day. It sparked from this overwhelming sensation that came over my body as tears where squeezed from the corners of my eyes each and every time I stepped into the structure. I needed that to stop. It was consuming me.

When I told my mother I was leaving she could have had a more focused caring on my failed grades. She did not care.

From the moment I stepped into the new birth of spring air, I was kissed by an element of tenderness. The world was telling me, "Everything will be okay. I'm here to bring you serenity." Her whispers were carried by collections of wind led by her breath that smelled of damp blades of grass and little hands of growing trees. Birds perched on those extended arms sang melodies into my heart, ironically, reminding me of you. How surprising. Everything, every element, every voice, every sound, everything caused me to recall my days spent with you. The gentle breathe of our mother pushed back my hair from my sun kissed faced and pallid complexion and suddenly I imagine you and your cold fingertips stroking the porks of my skin. I was waiting for, a moment, your pair of Coca-Cola tasting lips to greet mine. Leafs danced elegantly and tugged at the soft knuckles of my fragile hands and I recollected memories in which your immense hands would digest mine.

I found my self drowning in this past image of you and recognized the eternal damage that was beginning to occur. I expanded my lungs inhaling the bitter morning air and attempted to exhale not only my breath, but every image of you. It failed. I tried; at least.

In my favorable wash faded skinny jeans, local high school varsity soccer sweatshirt, and mustard stained blue plaid converse I continued out of my neighborhood through a trail of identical cookie cutter developments. I took path to our center placed grocer and decided to head in. The automatic doors opened and I was greeted by this smell of floor cleaner. The clock in the back of the store read 1:22pm. I purchased the only drink I consider the best, a Peach Green Arizona Tea and a pack of gum later to be eaten by dog. Mask on. I said Hello and asked the cashier how her day went. She yawned. I no longer required an answer. I never did it was just polite of me to ask for one. She scanned my items and wished me a lovely day. I smiled and pretended to believe as if that was exactly what was going to happen when I left. I was shocked to find it did.

After that I found my feet tenderly leading me to one of my most adored places; The Library. There, I stepped in enveloping myself amongst words and pages as they kissed me. Whispering words that I would be okay, I would be alright. I trust my friends, words and books. They are there when every other individual fails to be. I will always have them to return or surpass the expectations I own of them.

When I left the library a selectively concerning mother had left a dozen voice mails. I call her back and we fight.

I ended my freedom day at the house of a childhood friend. 8 years and we couldn't be more alike. She is my closest guy friend. Don't understand? I'm sorry. She made me laugh. She made me laugh.

I walked home to an empty house and two dogs sleeping on the couch.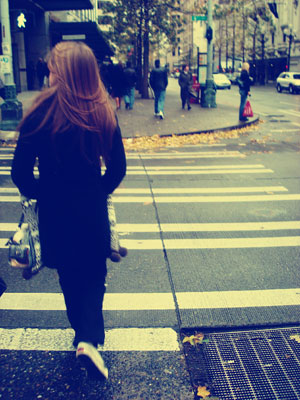 © Adria O., Edgewood, WA