Bleached
February 7, 2011
The sun is warm on my face. I can feel my pores opening up to absorb the light and heat. A train blares in the background. The wind blows, picking up strands of my hair and tangling it in front of my eyes. The sun highlights each dancing thread. They appear golden, with red tints that seem to glitter when they blow too close: a kaleidoscope of color compared to the everyday brown. The texture of my skin looks like peach stained snake skin, its lines and planes reflecting the fragmented light. The brick building throws most of the courtyard in shadow, but the bench is heated, standing in the fast retreating sunlight. It would be a warm day if not for the wind. The ground is trodden and muddy. What little grass remains is dead, brown, brittle. The sun begins its slow descent from the sky and the shadows begin taking over.

A tinkling sound punctuates the silent air; a set of wind chimes hang from a dignified evergreen that stands as tall as the second floor. The small garden beneath it is empty except for mulch, leached of color, and a few dead plants.

We are all ready for Spring.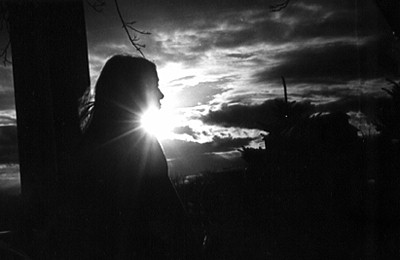 © Elizabeth G., Marblehead, MA