Life Is Beautiful
February 27, 2018
The day is coming to a close. The sun is fading behind the thick grey clouds; the ocean water recedes. I watch as families pack up for the day, relieved mothers carrying sleeping children followed by sunburnt dads laughing a bit too loud. My eyes follow a large man carrying a small red cooler in his left hand, his right hand reaching out to the young girl trailing behind. She looks like my Goddaughter, I take notice to that. I wait quietly, watching as people fold up their towels and take down their umbrellas, slowly beginning their retreat home for the night. I close my eyes as I feel the cool breeze. It tangoes with the long grass and dune weeds, loose grains of sand being thrown around in the air. Often, evening wind can be frigid, but at this moment, the wind is merely sheltering my body. Wind is engulfing my frame into its comforting grip, slathering my body in reassurance, sheltering me with my humility. It is a comforting embrace promising the time of cold is over. I feel comfortable and content. All that I need right now I have. I am satisfied; the universe catering to my needs as if I am the last person on Earth. A used up watercolor pan sits on the table beside me, a stagnant cup of water shielded by the edges of its tall glass. I take a deep breath in. Every worry, every problem, every bad thing that happened just slip away. At this moment, I am free. I feel no shame, no guilt, no pain. I have never felt so at peace in my life, and I think, this feeling is the reason I continue to live. Each day, some easy, some hard, I push myself through seeking this feeling. Every tear, every cry for help is worth it right at this moment. It is silent except for the waves and soft calls from a group of seagulls. My sketchbook lays open beside me, fresh colors drying by the rays of the sunset. The wind flips the pages, taking me back to the time of black and grey pieces. Where I stay up all night because I am too afraid to sleep. I sit up and shut my sketchbook. I remind myself I am not who I used to be.

A young family walks past me; the mother smiles and the father says, good evening. I watch the older boy holding hands with his young sister. He avoids my stare while she looks right at me. For a minute, I can see myself in them. I can see the future I have allowed myself to live. Tears spring to my eyes as I realize all that I almost lost. I say a prayer to God, thanking him for his faith in me. I take my time praying; taking breaths before each word, trying to make up for the ones I took for granted. I shut my eyes again and inhale the salty air, taking such a big breath that the inside of my nose tickles. I rock gently in the white, wooden chair. I relish in the feeling of euphoria and purpose. Purpose, I have purpose and I can feel it. I want to call my mom and tell her everything is okay, but I think she already knows.

I never thought by fifteen I could appreciate life so much. I didn't think I was able to grasp a concept so confusing and overwhelming. I suppose I don't, really, but I am closer than I was six months ago. Six months ago life had no meaning; six months ago I was ready to give up everything I had; six months ago I lived each day as if I were already dead. That was six months ago, and this is now. Now, I am sitting on the beach. The world is silent around me. I cannot recall a time my mind was this clear. Depression made my thoughts muddy, but now, I see clearly. At this moment, it feels like the world is stopping just for me. The wind is cradling my body, the waves singing me a lullaby, the Earth caring for me in ways I'd forgotten to myself. This seems like such an insignificant moment, but it is the most significant. I breathe in the warm air as I feel all the movement around me. I feel my heart beating and my blood coursing through my veins. I feel my hair blowing in the wind, and I feel the sand between my toes. I feel what it is to be alive. This moment I feel everything, and for once, it is all good. I open up my sketchbook and smile at my newest painting. The blackness that fills these pages does not take away from the light I put in it now. I pour the life out of me and put it on these pages, and as I run my fingers over the scratchy paper, I acknowledge that that is okay, as long as I save enough life for myself. I have my paints beside me and the ocean in front of me. The rib cage that encloses my heart is stronger now; personally handcrafted by heartbreak. Now, there guards a shell made from thick bone and self-love. My bones are not brittle anymore, they are made for battle. I am ready for what life has to offer. Every good moment and every bad one, too. And now, I want to be alive for it.

Another warm breeze comes along; the taste of is salt on my lips. Life is beautiful.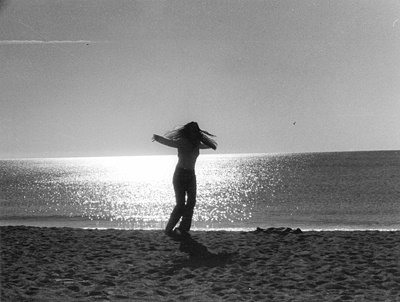 © Denise A., Marblehead, MA