The Black Pearl
January 16, 2009
I hopped into the passenger seat of Sara's shiny, 2008 Ford Escape. An orange air freshener dangled from the rearview mirror and the subtle scent of Peachy Peach lingered throughout the car. It wasn't exactly any luxury car, just another cheap Ford. Her brother called it the Plastic Car, because some things were already breaking, but we called it the Black Pearl and it took us everywhere with no complaints. Sara has only had it for a few months, but already it has accumulated endless memories and laughter. This was the car that took the long way home, just to milk a few extra minutes with friends or finish a favorite song that was playing on the radio. If we were to be seen at a stoplight, the car would most likely be rocking from side to side, our arms flapping around inside and heads bobbing to the beat of some hip hop song. Its speakers never have anytime to rest because the music we play is so loud and obnoxious. The sound system was perfect for a 17 year old; her parents most likely regret it though.
This car was just right - not too big, not too small. It did have pretty big wheels, probably from all the gossip we tell and secrets it's keeping. Well at least we knew our secrets were safe.
The passenger seat had a few negligible stains, probably from times when I was eating in the car, but other than that it was a tidy car. A small black trash bin was velcroed to the floor of the passenger side so our messy friends would have a place to dispose of their waste, besides the between the seats or outside the windows. The dashboard and cup holders were wiped clean, not a speck of dust in sight. Some just-in-case-of-emergency supplies sat inside the console of the driver's seat and mine: Tic Tacs, Excedrin, a toothbrush, and her dad's Brut cologne. There was a small knitted blanket in the backseat, for her dog to sit on so she wouldn't shed everywhere. It was a comfortable car, almost like home because we were always in it.

The engine turns on smooth and silent, like a new car should. The IPod is plugged in and ready to blast a Britney Spears song. We were driving down the neighborhood and after about 50 feet an annoying, high pitched dinging sound, almost like an alarm clock, goes off. The 'passenger seatbelt' light comes on. Did I say that the Black Pearl took us everywhere with no complaints? Well there was always one, and that was it admonishing me for not wearing a seatbelt. The car came to a halt, Sara always yelled at me for not wearing my seatbelt too. Sometimes I thought the car had adopted her personality. I clicked it into place and we continued our journey. We were off to another adventure, and whether it was a road trip to another state or a trip to a grocery store, the Black Pearl was right there with us, storing all our memories and gossip in its big tires.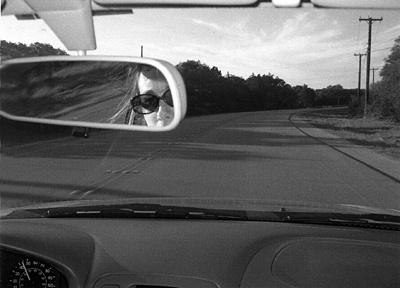 © Roxanne D., San Antonio, TX