A Brief Time with Lilly
May 28, 2016
Six years of a new life with new people rushed past us like the tide rushing past rocks on the shore. Constantly moving and changing everything around it, just as time changed us. As we arrive upon the third day of our project, the aching of our hearts and bodies bring us to a pause. The past two days linger, and drag down our once hopeful spirits. An immediate tension fills the entire house and the anger once rumbling through her voice in the night previous faded into frustrated sobs with tears that pierced through each layer of my heart. All of our friends take up an important role in this project and our friend, Lilly, takes the lead. She is our shining beacon whose light guided us through the darkest places. But right now, she remains just a girl. A girl whose heart breaks for a dream we all see to be crumbling under the weight of our exhaustion and failures.

Fear flows from her eyes and onto the script in front of her. Puddles pool in those spots and streams break through, drizzling the ink down the paper, smearing the set of words below. Her breathing scatters and muffles into whimpering. She makes an attempt to stop her tears, but more burst through. What went wrong? The beginning of this project seemed so promising, but since the last emotion filled meeting we endured, our resentment towards the project grew exponentially along with her denial. And now the truth finally rises from its temporary shadows slaughtering the optimism she once survived off of. She remains alone. Broken by the the weight of the world, her arms collapsed. Inside her own mind, she finds herself falling into the realm of failure and disappointment. Her surroundings grow darker and darker as her mind traps and squeezes out her hope. Drip drip drip. Her hope falls onto the pages. Drip drip drip.

But a warmth suddenly surrounds her. Seeping into her wounds like an elixir, the warmth brings her a luminous new strength. There are only rare instances in which we expose our appreciation or sympathy for one another, but she needed it. We all do sometimes. A simple, but warm embrace keeps her from falling any further. Reality hits and the loneliness disappears as my arms encase her. Finally feeling a moment of repayment, I let go. Her dazed look rests on me. As we fell into what seemed like a long moment of silence, an exasperated "Thank you" escaped her lips and lifted the weight of the room. I wish there was enough in me to explain how needless those words are after receiving a never-ending bulk of support and friendship from her, but I only managed a stiff "You're Welcome" with a reassuring side-ways smile in hopes she may be able to see all of my intentions in it.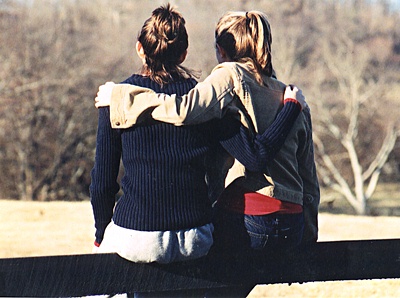 © Jaime M., Wichita Falls, TX