Don't Judge
April 3, 2015
" Sometimes we are hated for the color of our skin or our beliefs people will see you and judge you before they even get to know you, be proud of who you are and don't anyone tell or make you feel bad about yourself"
-Ruby Bridges

Once was a girl that I thought was my friend.We sat by each other on the bus all the time.Then one day I asked if I could play with her and her response was "I don't like you because you're black and from Africa. Who want to be friends with someone thats from Africa and so different from the rest of us. Besides your nosed is too big". As I stood there with my eyes locked on hers thinking to myself am I that Bad? Tears dripping down my face. When I looked up I see her glaring at me like I did something wrong. Ever since that moment I've never forgotten.
When I first got home I swung the door open and threw my backpack across the room. My mom came running into the room and asking what the matter was. I sat on her lap and told her everything Then she hugged me really tight. She said "some kids were born in families that were racist and that the kids might of learned it from their parents". "Some kids are bullies to other kids because they think that saying something mean gives them power".
After a few minutes I was still crying and then she started telling me all about Ruby Bridges and how strong and brave she was. My mom said "Ruby always stood up for what she believed in". Then I was crying harder and kept saying "I never want want to go back to school I'm too afraid". After a few weeks later my mom was telling my sisters and I all about Ruby Bridges and she even took us to the Indianapolis Children's Museum, to try and help me become a more brave and strong. My mom said " God made me who I am today and that it doesn't matter what colored skin or hair you have, everyone is perfect in their own way".
In the moment when I realized that you should treat people the way you want to be treated.

Also learned that people should treat you by the way you act towards others. My life changed forever after that. As I move ahead in life, I will always remember to treat everyone with kindness and respect, and I will not judge anyone by their appearance until I know the person really well before making negative comments. We shouldn't even judge people even if we like them.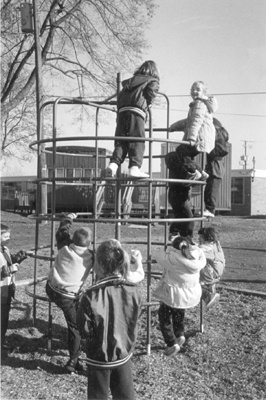 © Danielle H., Jonestown, PA