Dropping the Net
October 27, 2014
Fear is nothing more than an obstacle to be overcome. It is merely another emotion, though this is not to say that fear isn't useful at times. However, fear is often a barrier that limits our abilities. Most people, myself included, do not believe that they have many restricting fears. It was not until I spent five days in Colorado with my youth group, that I had the courage to delve into myself and stare as my list of fears and barriers was revealed to me, pelting me one by one with their sting. As if I were a ghost, not fully involved, I watched my walls come crumbling down. As if for the first time, I saw myself in painfully clear definition.
After a thirty-two hour bus ride from Michigan to Colorado, my youth group and I finally reached the Free Methodist Youth Conference (FMYC). We had made the seemingly endless journey to Colorado for one sole purpose: to be a part of a nation-wide celebration of faith that would prime us to be the light and salt of the earth. FMYC was set to be a five day conference at Colorado State University. The words "life-changing" and "unbelievable" were often tagged on to descriptions of FMYC. Needless to say, I had high hopes for this event.
Fortunately, I was not disappointed. On the first session that my group and I attended, I was challenged. As I sat in the carpeted, stadium-style seats, I observed the man who strolled out on to the dimly lit stage. He was middle-aged and slightly bald on top. He steered his feet towards the lone black microphone that stood near the front of the stage. As he introduced himself, his deep voice reverberated through the room of excited teenagers. "My name is Phil Manginelli. I will be your speaker for every evening session you have here at FMYC." Slowly, he eased into his lesson, every word building into a fiery crescendo.
Over the course of the next half an hour, I heard more passion about God from one man than I had heard in all of my fifteen years. Phil brought an unearthly power and eloquence to his speech. He had my full attention; I couldn't tear my eyes off of him. He was elaborating on a passage of Scripture that I was well acquainted with: Luke 5. In this chapter, Jesus is choosing his disciples. Many of his disciples are described as "dropping their nets" to follow Jesus. Phil expounded to us how he interpreted that action. According to him, the "nets" that the men dropped where both literal and figurative. Being fisherman, the men that Jesus called were actually holding fishing nets that they left behind. However, Phil informed us that they also had to drop their figurative "nets," meaning anything that held them back and kept them from following Jesus. I will never forget what Phil challenged us with that night. "What are your nets? What keeps you from following God the way you should?" he asked. Something in my heart stirred. I didn't have to use any reflection time to concieve my answer. My net was fear.
I had allowed fear to hold me back in ways that I didn't realize. I didn't fully comprehend just how big of a factor fear was in my life. I was reluctant to share the Word of God with my friends because I was nervous of what they would think. I didn't want to take a chance at being rejected because of my faith in God. When I recognized that in myself, I was revolted. I couldn't stand myself. I had always thought that I was brave enough to share my belief with others, but I was far from that point. Throughout the next four days at FMYC, I worked on changing and improving myself. In the split second that it took to me to discover my "net," my life began to change; suddenly, I was headed down a path of courage rather than fear.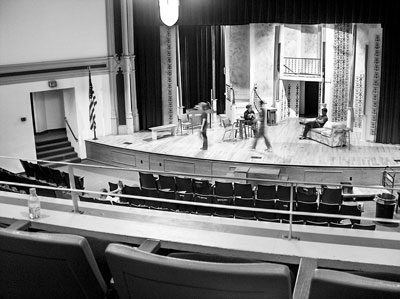 © Sean C., Princeton, IL