The True Evil
January 17, 2012
As I look at the picture before me, I cannot help but think "This is an evil face." This face I have seen everyday for quite a while now and my views change from day to day.


Today, it seemed evil. The eyes are too big. The mouth is misplaced. The skin is too pale and the hair is misshapen.


When I looked into this face, I saw that the eyes were like a dark, never-ending tunnel. I saw people shivering in eaves on the walls. I saw spiders and rats crawling out of cracks and vents. Not one ray of happiness or goodness shone in those eyes.


The nose was small compared to he large eyes. Never, even on a child, have I seen such a small nose proportionally. From far off, it looked fine, but it was terrible up close. Oh, too small.


These lips that make up the mouth on this face should be right in the middle between the nose and chin. It was too close to the nose. And those lips were thin. Chapped at best and pale at worst. They were pale and almost dead-looking.


The hair was astray. An untamed beast forever terrible. Packed into a single rubber band, used up to were it might break.


Yes, there's no doubt this face is evil. How do I know? The picture frame of this picture is none other then glass and foil. Of course it's my mirror.


Many either lie around the house or hang on the walls. Am I evil? That's up to you to decide.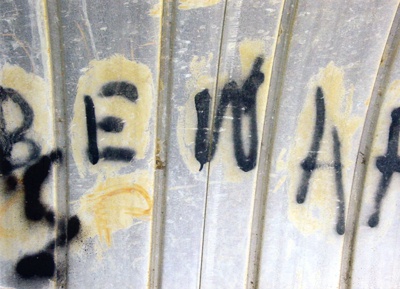 © Chris P., Highland Village, TX