Avril Lavigne: An Inspiration to All
February 20, 2012
Punk rocker, pop princess, toughie, or sweetie Avril Lavigne is all of this and more. Her songs are heartfelt, meaningful, and filled with emotion. For every feeling one may encounter Avril has a song written for it. She has produced three albums, and a couple dozen more singles. A teen sensation at seventeen, Avril has touched hearts to millions around the world. For me Avril has helped me learn who I am, to come out, and be confident for who I truly am. She has taught me to keep holding on when times get tough, because everyone has problems that are happening. She has taught me that it is okay to have some fun, and be a little outrageous.
Adopted, confused, and in the middle of a giant identity crisis, Avril has helped me through this, through her many songs. I yearn to go home after every day of agonizing school just to hear her soothing voice play loudly in my ears. Letting her words settle into my mind. I never realized that through her songs, she helped evolve me into who I am. She has made me confident in whom I really am, not caring what others think, and being proud of it. She helped create me into a tough, outgoing, strong willed person. I thank her for that.
When life gets tough, you have to keep holding on. Avril has lost many beloved people in her life, and she still manages to be a strong person. Not to say that she shouldn't mourn, but she has never let it take her down so far where she isn't able to crawl out. When I was so far down, I resorted to cutting, to anger, to hatred, but whenever I heard her songs I would become a saner person. I would be happy, joyful, and gleeful. I would laugh, and cry because I hadn't felt so happy, in a long time. She taught me that everybody hurts, everybody feels that way, and its ok to be afraid but you have to keep holding on.
Life isn't all about school, about getting into an Ivy League college, or even about being perfect so everyone loves you. Avril taught me this, that it's alright to have some fun, to be a little crazy to let go of yourself, to take each moment as it comes. I was all caught up in pleasing everyone, making everyone love me, and getting into the perfect school. Luckily her music taught me that, that isn't all in life. Yes, school is a vital part of life, but also chasing your dreams are, and having fun. I used to have fun, but it was so uptight that I wouldn't even call it fun anymore.
A heartthrob for boys, and a role model for girls Lavigne managed to do it all. Avril pleased all ages, and still will. She has taught me to be confident with who I am, and strut it with grace. She has aided me in not letting go when life gets hard, but to stand and fight and keep holding on. She also helped me learn to have fun, and be outrageous, crazy, and you don't have to please everyone to get far. I really have looked up to Avril from day one, and will always love and adore her. She has inspired me to become who I am today, and she should be thanked.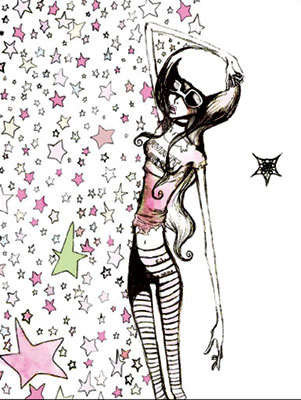 © Emily L., Redmond, OR