Born to Perform
MAG
Many people take years to discover what makes them feel complete. Some never find it. Still, others are lucky and find what motivates them early in life. I'm one of the lucky ones - I learned what makes me tick, what makes me "me," when I was just six. I found myself on a stage.

As a child, I began taking dance lessons and loved it. My mom still talks about how I fidgeted each week during the short drive to the dance studio. All I remember is being filled with excitement and rushing from the car to climb the stairs that led to the tiny rehearsal space. I loved slipping into the pink tights, black leotard, and ballet slippers. Every week I became the prima ballerina.

Getting ready for recitals was even more of a thrill. My mom was always there to help me put on my spangled leotard and starched tutu. Then, my hair went up into a bun. Another special detail reserved for recitals was that I could wear colorful ribbons on my tap shoes. This made them look so pretty. I felt beautiful!

When my first recital finally arrived, I remember feeling quite small looking up at the grand curtain I stood behind, butterflies in my stomach. The most unexpected thing happened, though - as soon as the curtain opened, the butterflies disappeared! Something new came alive inside me. I loved being up there and wanted more.

At eight years old, I joined a children's theater group and found the butterfly experience happening over and over. I completely enjoyed it and longed for my next time on stage.

To my surprise, I found something in theater I never expected - a sense of belonging. I felt part of a team. I used to think of teams as athletes playing games but in theater, it's not a game but a performance that we all work toward. I learned the value of the directorial staff and the stage crew, the equivalent of the sport team's coaching and management staffs.

Acting gave me more than dancing because I was someone different each time I was on stage and I could always add a part of me to that character. This thrill led me to audition for more shows and I began to play bigger roles, which meant more time on stage. The feeling is still identical to that first time - the nervous tummy followed by all of me being taken over with nerves, but as soon as I hear the overture or the squeaking of the pulley as the curtain opens, I begin to relax. I never have to tell myself to calm down. It just happens. It is that feeling that always gets me no matter how many times I perform. I love it and live for it.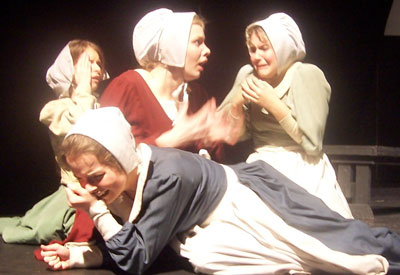 © Anonymous